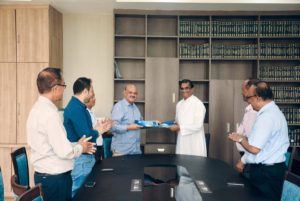 A Memorandum of Understanding (MoU) was signed between Assam Don Bosco University (ADBU), Guwahati and North East Cancer Hospital and Research Institute (NECHRI), Guwahati on the 25th of September at the Tapesia Campus of Assam Don Bosco University.
The MoU includes conducting joint training programmes; develop institutional capacity building including joint consultancy and research programmes, researcher and student exchange programmes for human resource development through education, training and staff exchange and sabbaticals.
Other activities under the MoU will include joint organization of International Workshops, Conferences, Seminars and Symposia focusing on Medical Technology development. The institutions plan to facilitate the transfer of innovation and technology in the areas of mutual interest. ADBU and NECHRI plan to jointly introduce Certificate/Diploma/Degree courses in Radiotherapy, Radiology and Pathology. A major area of interest for both the institutions is to utilize expertise from both sides to develop indigenous low cost medical equipment and accessories.
The MoU was signed by Fr. Dr. Stephen Mavely, Vice Chancellor of ADBU and Dr. M. N. Baruah, Managing Director of NECHRI. The other dignitaries present in the MoU signing programme were Dr. Imliwati Longkumer and Dr. Gitartha Roymedhi from NECHRI and Prof. Basil Koikara, Prof. J. N. Viswakarma, Dr. Peter Paul Hauhnar and Prof. Sunandan Baruah from ADBU.