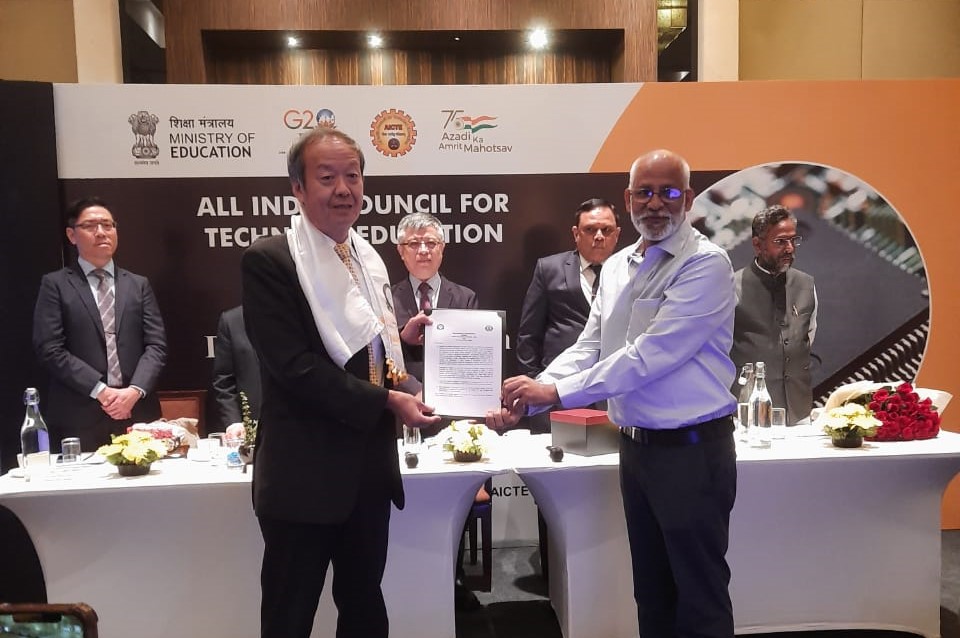 The University signed MoUs with 5 Taiwan universities – National Chi Nan University, Yuan Ze University, Asia University, Kun Shan University, and National Kaohsiung University of Science and Technology – on 19 November 2023 at the Grand Hotel, New Delhi in the presence of the AICTE Chairman and the Ministry of Education, Taiwan. Dr. Jose Palely, Vice Chancellor and Dr. Bikramjit Goswami, Assoc. Professor & HoD, Dept of Electrical and Electronics Engineering represented the University in this event.
These MoUs aimed at helping the students to benefit from joint/dual degrees, internships, and Student Exchange programmes. These MoUs envisaged to promote faculty exchange, joint conferences, seminars and workshops, and paved the way for joint research and publications.
In his address to the delegates and participants, Prof. T.G. Sitharam, Chairman of AICTE, emphasized the importance of collaborative activities and partnerships in semi-conductor related technologies to make India a leader in semi-conductor and related technologies.
The event was organised by AICTE together with the Ministry of Education, New Delhi. Members of the Ministry of Education, Taiwan, Delegates from 11 Taiwan universities, Vice Chancellors, and Heads of higher educational institutions from over 40 universities and institutions participated in the programme.
Assam Don Bosco University deeply appreciated the innovative measures taken by AICTE chairman, Prof. T. G. Sitharam and the Ministry of Education, Government of India in facilitating collaboration and partnership with Taiwan Universities.