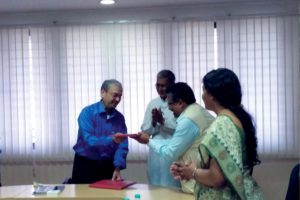 The University on 20th April, 2017 signed a Memorandum of Understanding with Indian Institute of Technology, Guwahati.
Prof. Manoranjan Kalita, Director, School of Technology of the University and Prof. Gautam Bisawas, Director, IIT-G signed this MoU which opens a new avenue of collaborations in various areas of Scientific and Technological developmental initiatives and research.
The MoU paved ways for students at Don Bosco University, to visit and get familiarized with latest technological equipments at IIT-G, and also do their summer internship at IIT-G. In addition, both parties agreed to collaborate in research at various levels.