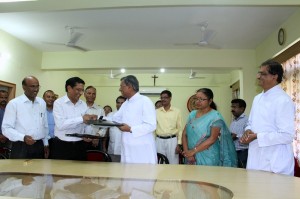 The University signed a memorandum of agreement with Tezpur University on Friday 17 October at Guwahati agreeing to exchange teachers and students, and have joint research projects and to share resources in the areas of Chemical Sciences, Food Engineering, Physics & Nanotechnology, and Computer Science Engineering.
Pro-Vice Chancellors of both universities signed the Memorandum of Agreement (MoA).
"We are happy to sign this agreement with AssamDonBoscoUniversity, though a very young university, they are quite at par with us. It is for mutual enrichment, and with activities selectively pursued, both our universities can go along working together," said Tezpur University Pro-Vice Chancellor Prof. Amar Jyoti Choudhury.
Reiterating the same sentiments Vice Chancellor of Don Bosco University Dr Stephen Mavely added, "for us it is a privilege to work with a central university. We hope to take this forward as a model collaboration between universities."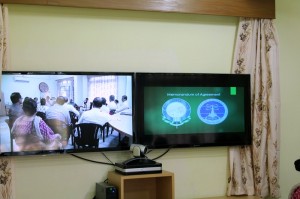 The MoA also envisages joint research projects between the two universities involving DBT, DST and other funding agencies, access to and use of the Sophisticated Instrumentation Facilities at both the universities, faculty exchange, and joint faculty development programmes sharing resource persons visiting the two universities from India and abroad.
The MOA also allows the students and staff of ADBU access to DEIT-assisted MEMS fabrication facilities available at TU–for training programmes and fabrication.
The memorandum of agreement between the two universities is applicable initially for a period of five years starting 17th October 2014.
Some of the specific areas of collaboration include:
Between Prof. Ramesh Deka and Prof. N. Karak of TU and Prof. JN Vishwakarma of ADBU: in Theoretical Chemistry & Catalysis
Dr. D. Mohanta and Dr. P. Deb of TU and Dr. Sunandan Baruah and Dr. Monmoyuri Baruah of ADBU: in Synthesis and Characterization of nano-materials.
Prof. Utpal Sarma of TU and Dr. Y. Jayanta Singh of ADBU: in the area of language processing.
Professors P.J. Mahanta and M.A. Kalam of TU and Dr. Riju Sharma, Dr. Paul Pudussery and C.M. Paul of ADBU: joint projects and exchange programmes in the areas of Social Work, Education, and Mass Communication.