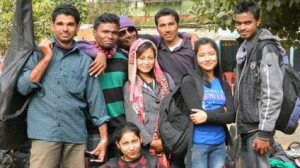 The students of Social Work (3rd Semester), Assam Don Bosco University (ADBU) have begun their first internship placement across the country with 14 agencies related to their respective areas of specialization. Starting tomorrow (16 September) it is a time when 50 students get into practical social situations over an extended period of time and learn social work practice by observing, feeling, engaging meaningfully with field realities.
'The objective of the department for the internship is to get the students to have a firsthand and live experience into concerns related to the areas of their specialization and interests in live social labs and align their theoretical knowledge of social work practice to practical realities of society' says Mr. Jacob Islary a faculty of Social Work.
'While the department gives them some guidelines, each student is encouraged to be innovative, creative and work in areas related their own interest in keeping with the scope of the agencies that they are affiliated with' says Mr. Victor Narzary faculty member of fieldwork committee.
'I am going to Chirag, Nainital in Uttrakhand, because it would give me a larger view and experience of the development concerns related to hilly and mountainous regions as I am from Meghalaya' says Mr. Elpius Lyngkhoi one of the students.
'This placement is going to expose me into a field reality that will help me align my theoretical understanding of mental health' said Ms. Menokhono who is with LGBRIMH, Tezpur Assam.
The students are placed in different settings. While some are placed with strictly institutionalized ways of functioning; others are placed in open communities where they can explore and be innovative in their own ways.
It is interesting to note that some are also placed with families in villages where the concerned organizations have outreach programmes and projects and given full liberty to experiment their ideas and models on development within the values and ethics of social work.
Each student is mentored in the course of the placement by a professional supervisor from the agency where they are placed with, as well as a faculty member from the department of Social Work, ADBU. Each student is also required to sent updates and reports to the department on a daily basis.
They will start back to ADBU after 20 days of field work on 5th October.
The list of Agencies:
1. Central Himalayan Rural Action Group (CHIRAG), Nainital, Uttarakhand
2. Pan Himalayan Grassroots Development Foundation (Grassroots), Ranikhet, Uttarakhand
3. Asha Deep, Kolkata, West Bengal
4. Hope Foundation Kolkata, West Bengal
5. Civil Hospital, Shillong, Meghalaya
6. Dr. Robert Gordin Hospital, Shillong, Meghalaya
7. Faith Foundation, Shillong, Meghalaya
8. Maternal Child Health and Family Welfare, North Garo Hills, Meghalaya
9. Nazareth Hospital, Shillong, Meghalaya
10. Indo – Global Social Service Society (IGSSS), Lakhimpur, Assam
11. John Bosco School, Kokrajhar, Assam
12. Legal Cell for Human Rights, Guwahati, Assam
13. Lokapriya Gopinath Bordoloi Regional Institute of Mental Health (LGBRIMH), Tezpur, Assam
14. North East India Committee for Relief and Development (NEICORD), Guwahati, Assam