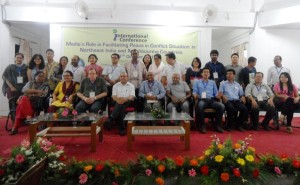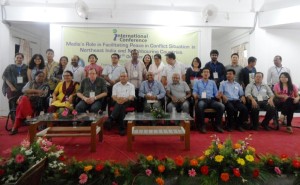 A 14-member University delegation participated at the International Media Conference held at Rajiv Gandhi University, Itanagar, 9-10 October.
The RGU Vice Chancellor Prof. Tamo Mibang inaugurated the 2-day Conference on 'Media's Role in Facilitating Peace in Conflict Situation in North East India and Neighboring Countries.'
It was organized by the RGU Department of Mass Communication with Eastern Sentinel, a leading daily newspaper in Arunachal Pradesh.
The ADBU delegation consisted of 12 students and two faculty (Fr. C. M Paul and Asst. Prof. Mr. Kaushik Bhuyan), along with former ADBU Director of Communications Sr Shiji James MSMHC who presented a paper on "Representation of Northeast India in the National Print Media.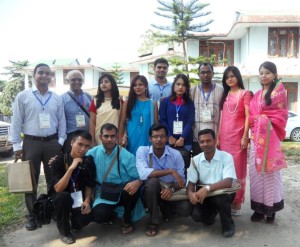 Mr. Bertil Linter, an eminent journalist (Asia Pacific correspondent for the Swedish daily, Svenska Dagbladet) and a person who spent years in reporting the conflict hit areas of Myanmar, Bangladesh and North East India was the keynote speaker.
He made a deep introspection of Media's role on conflict reporting by his own personal experiences and problems faced by journalists while reporting in conflict zones. He emphasized the importance of factual and objective reporting without being biased.
Introducing the conference theme, the conference convener Dr. Kh. Kabi, HoD, Mass Communication highlighted the role of the media in conflict situations. He underlined that the responsibility of the media is to promote peace in the society. "Peace is also telling truth without biases, it is also about equal participation during conflict times", he added.
The two-day conference, a collaborative endeavour of the Mass Communication department of the RGU and local English daily Eastern Sentinel, was supported by IGNOU and NHPC besides a host of print and electronic news establishments.
Among the speakers were reputed journalists and resource persons including Lintner, Haroon Habib, Narendra Dev, T Monalisa Changkija, L R Sailo, Teresa Rehman, Kishalay Bhattacherjee, Pradip Phanjoubam, Rajiv Bhattacharjee and Samudra Gupta Kashyap.
On the second day Ms. Y W Ringu, Director of Disaster Management in Arunachal Pradesh, while speaking on disaster management urged the media fraternity to play a crucial role in educating the public and create the much needed awareness.
Seven technical sessions witnessed presentations of some 30 papers with in-depth analysis of ethnicity, insurgency and role of the press.