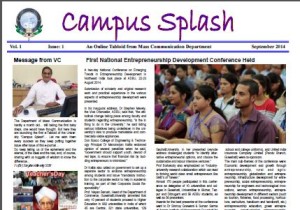 Within one month of its inception the Mass Communication department of Assam Don Bosco University launched a 10-page tabloid paper, 5th September 2014 christened 'Campus Splash.'
An e-publication of MA in Convergent Media & Technologies course, the name rhymes with 'Spark', ADBU's official newsletter published quarterly.
"We hope to bring out this e-tabloid every fortnight," says Head of Mass communication Department Fr C.M. Paul.
The ADBU Vice Chancellor Dr Stephen Mavely launched the e-tabloid with the click of a mouse during the Teachers' Day celebrations at Azara campus.
Complementing the team of 12 students (7 men and 5 ladies) who put together the first A3 size newspaper of the university, Dr Mavely said, "the Department of Mass Communication is hardly a month old… still taking the first baby steps, one would have thought. But here they are launching the first e-Tabloid of the University "Campus FLASH"… "
The VC added, "let me wish them every success as they keep putting together issue after issue of this e-journal…"
He also encouraged the post graduate students saying, "do keep telling us of the ephemeral and the eternal, of the ideal and the real, and, of course, sharing with us nuggets of wisdom to know the difference…"
Each student is assigned a particular news beat covering various university departments and sectors for regular news reporting.
After news gathering and photo shoot, students work in four teams of three each to prepare two or three pages of the e-Tabloid.
In the technical sense, tabloid refers to a type of newspaper that typically measures 11 X 17 inches and is five columns across, narrower than a broadsheet newspaper. Since tabloids are smaller, their stories tend to be shorter than those found in broadsheets.
Some of the respectable names of tabloids include the New York Daily News, the Chicago Sun-Times, the Boston Herald and so on – that do serious, hard-hitting journalism. In fact, the New York Daily News has won 10 Pulitzer Prizes, print journalisms highest honor.
Click the following link to download itCampus Splash September 2014 – Inaugural Issue
You may also read it here online…