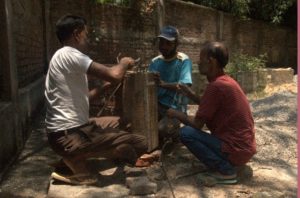 A three day mason training programme was organized by the Department of Civil Engineering as a part of the University's social commitment programme – Swabalamban, 5-7 June 2017.
The main objective of this programme was to enhance theoretical knowledge and practical skills of unskilled labourers who are interested in pursuing civil engineering construction work as a means of livelihood. Six persons from the vicinity of Azara campus participated in the programme.
Mr. Ankur Goswami and Mr. Gitartha Kalita, Assistant Professors of Civil Engineering Department gave lectures on the technical aspects of different construction works viz. formwork and scaffolding, RCC and PCC works, reinforcement and detailing, plastering, construction safety practices, and curing. Mr. Mukul Kalita, Assistant Professor, with the assistance of Laboratory Technicians Mr. Diganta Bhattacharjya and Mr. Nabajyoti Dutta, gave a demonstration of different laboratory tests which need to be conducted in the field of civil engineering construction. Md. Sukur Ali, a renowned mason from Azara contributed in the programme as a trainer to the participants. He gave elaborate practical insights into the preliminary construction activities like brick work, plastering, bar bending, concreting etc.