Starting 30th July ADBU is launching a new post graduate program in Child Rights and Development (MA-CRD).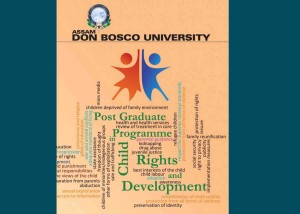 The program, organized in collaboration with and conducted at the Snehalaya Centre for Child Rights and Research Guwahati, is seventh Masters program at ADBU. The others are M. Tech, MCA, MSW, MSc in Psychological Counseling, MA in Educational Leadership and MBA.
"The MA-CRD focuses upon Child Rights, as outlined in the UN Convention on the Rights of the Child. In the context of development using innovative research, education and capacity building, it seeks to draw on the strengths of children, their families, communities and culture," says Vice-Chancellor Fr. Stephen Mavely commenting on the course design.
He points out "its aim is to enhance the capacity of individuals, organizations, and governments, to effectively use the existing legal provisions, insights from developmental psychology and the findings of contemporary research to transform systems and create peace and dignity for children and our world – moving child rights from rhetoric to reality."
Explaining the course methodology the VC adds," assignments, presentations, field work and conducting of workshops and debates are key components of the program."
"This practical involvement of the students builds upon a strong foundation given through theoretical inputs," says director of Snehalaya Centre for Child Rights Salesian Fr Lukose Cheruvalel, the Coordinator.
He further states that "students are exposed to the ground realities to give them a better understanding of the issues concerning children."
Snehalaya (House of Love) is a social service project for the care and rehabilitation of children in distress in the city of Guwahati, run by the Don Bosco Society since 2000.
Resource persons for the program include experts and practitioners in the field like Guwahati University, IIT, Peace Centre, Cotton College, Arya College, High Court Advocates, DPS, Child Rights & Social Welfare Dept., UNICEF-Assam, Snehalaya, as well as Guest Faculty.
—————————————
Classes commence on Monday 19th August 2013.