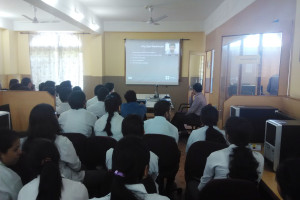 Mr. Waqar Ahmad, Solution Manager, (Sanipex Group-DUBAI) had an interaction with the students of M Tech, Computer Science and Engineering as a part of a refresher course through SKYPE from Dubai. Mr. Ahmad is a Master of Science and Information Technology and an experienced IT professional having 9 years of working experience in UAE.
In his message to Don Bosco University students of Information Technology, Mr. Admad said, "It has been an honor sharing my knowledge with bright students of Don Bosco University. It's time for the new generation to come forward and lead, our job is to support and equip them with necessary tools and knowledge. Students need to plan their career right from the beginning and never compromise on their objectives. In the vast field of Information Technology (IT) and Computer Science I suggest students to plan their career based on their area of interest and market demands.
In todays' market fields of data warehouse, data mining, programming and networking provides good career. Doing certification in relevant field always provides competitive advantages to get a better job. Those interested in the field of data warehouse and data mining can consider their career start as role of ETL developer, data base administration, database analyst, and Business Intelligence (BI) Analyst by using tools e.g., Microsoft SQL including SQL Server Integration Services (SSIS), SQL Server Reporting Services (SSRS), SQL Server Analysis Services (SSAS), Microsoft Power BI, Crystal Reports, Macro strategy etc. For those interested in programming can consider web (using .Net, PHP, Java) and mobile programming.  Another dimension is to consider help desk related jobs and considering certifications like Information Technology Infrastructure Library (ITIL). By stating all of this, I am just scratching the surface as there are lot more options. Finally, I wish you all the best for your career".
In the LIVE talk Mr. Admad shared practical knowledge and LIVE demos about ETL (Data Warehousing) with current M.Tech students of Computer Science and Engineering.
As per part of regular refresher program, This Live talk was arranged by the Department of Computer Science & Engineering and Information Technology, School of Technology of Assam Don Bosco University.
The HOD, Dr. Jayanta Singh said that more LIVE talks with experts from ORACLE, IBM and other companies are being scheduled and planned.