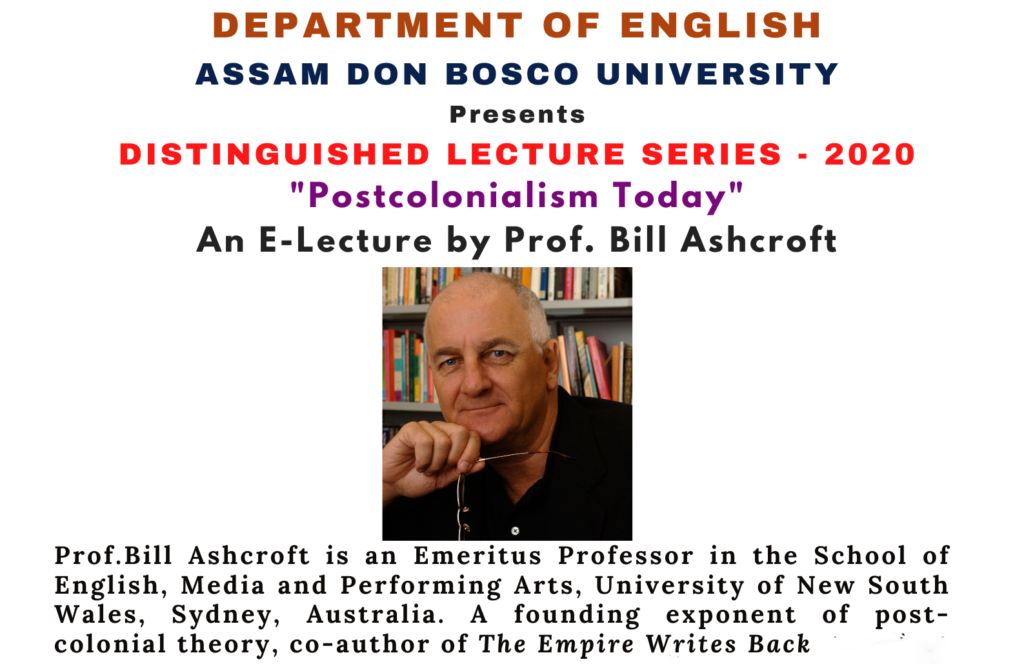 On 11th October 2020, the Department of English, organized the first Distinguished Lecture Series – 2020, with Professor Bill Ashcroft as the resource person. Prof. Ashcroft is a founding figure of postcolonial theory and an Emeritus Professor in the School of English, Media and Performing Arts, University of New South Wales, Sydney, Australia.
The programme commenced at 11:00 am with the welcome address by Fr.(Dr) Stephen Mavely, In his welcome address Fr. Mavely extensively spoke about the literary achievement and contribution of Prof. Bill Ashcroft in the field of Postcolonialism and also presented before him the panoramic view of the university and also highlighted the theme of 2020-21 session i.e. of searching for meaning in the bits and pieces of life.
In an insightful and gripping presentation on 'Postcolonialism Today', Prof. Ashcroft shared his in-depth knowledge and ideas on postcolonial theory, postcolonialism and globalization, postcolonial futures, postcolonial utopianism, literature's anticipatory function, borders and bordering, nation, transnation and so on. The insightful lecture was followed by critical and interesting questions on ideas like postcolonialism being physical or mental, the role of creative discourse in postcolonialism, borders and so on. The programme came to an end at 12:15pm with a vote of thanks by Dr. Saikat Banerjee, Head, Department of English, Assam Don Bosco University.
There were more than 1900 registrations with participants from countries such as Bangladesh, Morocco, Pakistan, Sri Lanka, Australia, Algeria, Italy, Saudi Arabia, Philippines, Nepal, Egypt, Iraq, Tunisia, Malaysia, Ukraine, United Kingdom, Scotland, Spain, Nigeria, Afghanistan, Bolivia, United States of America, Myanmar, Germany, Mauritania, Palestine, Yemen, China and Pan India thus making this event a truly global one.