The Assam Don Bosco University held a
lecture on "Caste Politics and Development of the Marginalized Groups in India – Strategies for Empowerment," on Tuesday 17th September. Prof. Francis P Xavier of Loyola-ICAM College of Engineering and Technology, will present the lecture sponsored by Indian Council of Social Science Research North Eastern Regional Centre (ICSSR – NERC).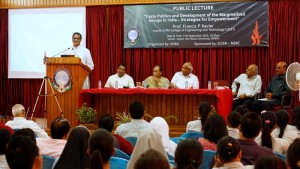 "Cast based politics is fragmenting our society. What is our answer to Mandalization of society?," said the Vice-Chancellor Fr Stephen Mavely in his opening words of the lecture.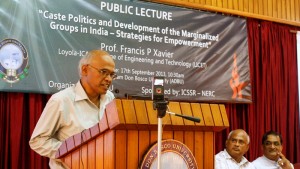 "This is the first in a series of lectures planned to the study of the marginalised people in northeast with the help of premier educational institutions… to identify the social conditions of SC/ST people in Assam (7%), Tripura (17%) and Manipur (3%)," director of ICSSR Shillong Dr Joshua Thomas expressing his pleasure to be associated with Don Bosco University.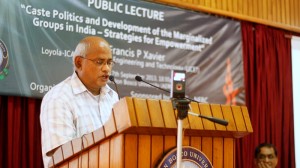 Prof Francis Xavier started the lecture presenting the scenario of the social situation of the dalits "even after the abolition of manual scavenging… according to August 2013 some one million are affected with bacterial infection (TB). It is more pathetic than at the time of Dr Ambedkar," said Fr Xavier. Some 50 percent of the oppressed class people cannot enter temples, 30 to 50% no access to burial ground, water sources and segregation in schools and restaurants… 25 to 30% people have to stand in the presence, nor cycle or walk with shoes in the dominant class village… low caste High Court judge humiliated on caste ground. Fr Xavier analysed the status of SC/ST under past suffering and predicament, present social and political movements, and future empowerment process. "Untouchability is not just social discrimination, but also the SC and ST are ignored in religious level," argued founder director of Loyola-ICAM Prof Xavier. The professor of Physics Prof Xavier said that, "after Budhism, Jainism and Sikhism rose against rampant caste prejudices and practices of untouchability, the Christian missionaries and Muslim invaders questioned the monolithic caste system in India." The SC/ST population, comprises of 700 Scheduled Castes and 461 Scheduled Tribes, along with manual scavengers and bonded labourers make up 21.1% of Indian population. Broken under social and religious suppression and neglect, social movements began fighting for the human equality and dignity of the marginalized people. Dr Ambedkar came up with the mantra of Educate – Agitate – Organize. Education, via critical thinking, agitates the mind on the face of inhuman social structure and practices, which in turn leads to organizing the powerless as the power centres. Dalit Panthers Movement in Maharashtra; Viduthalai Chiruthaigal Katchi in Tamilnadu, the Bahujan Samaj Party in Uttar Pradesh etc were founded for the uplift of SC/ST and other backward classes. But still much more is to be done for a meaningful liberation of the SC/ST population. Honorary Director of ICSSR Prof L.S. Gassah chaired the interactive session fielding questions on a variety of issues. Dr Dominic Meyieho of Northeast India Studies department anchored the session. Loyola College (founded in 1925 in Chennai) and ICAM (Institut Catholique d'Arts et Métiers, founded in 1898 in Lille, France), both guided by the Jesuit methodology of education, have inked a joint venture of founding an engineering college which would be a unique model not only in forming engineers with social responsibility but also serving as a melting pot of Indian and French cultures preparing Indian students to serve in European industries and European students to work in Indian industries.