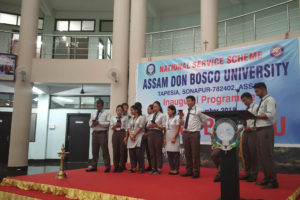 The University on 24th September held a launching ceremony of National Service Scheme at the University's Tapesia Campus.
Addressing the NSS Volunteers, the Vice Chancellor Fr Stephen Mavely spoke on the importance of service for the community, and also highlight that though the University have already been deeply involved in community led initiatives and improvements through the University's Centre for Development Studies and Initiatives and through the Department of Social Work, the new NSS Cell will be a new platform to volunteer and bring about changes not only in the lives of the surrounding community but in the lives of the volunteers.
In this short programme, the Director of the School of Humanities and Social Sciences, Dr. Riju Sharma gave a short speech on the aims and objectives of the NSS and what it means to be an NSS volunteer. The pledge taking by the volunteers was administered by Fr (Dr) Biju Michael, the Registrar of the University.
The National Service Scheme (NSS) is a Central Sector Scheme of Government of India, Ministry of Youth Affairs & Sports. It provides opportunity to the student youth of 11th & 12th Class of schools at +2 Board level and student youth of Technical Institution, Graduate & Post Graduate at colleges and University level of India to take part in various government led community service activities & programmes. The sole aim of the NSS is to provide hands on experience to young students in delivering community service.