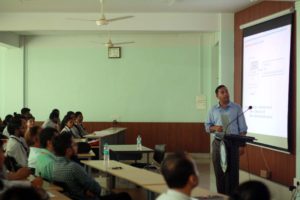 The Department of Chemistry organised an invited talk on 15th September 2018 at the Crystal Hall, Tapesia Campus. The speaker was Dr. Basanta Kumar Rajbongshi, an Assistant Professor in the Department of Chemistry at Cotton State University, Guwahati. Dr. Rajbongshi obtained his PhD degree from IIT Kanpur and the talk he presented was extracted from his PhD thesis work.
His talk was centred on the properties of a set of molecules that he synthesized, that function as extremely stable fluorophores (molecules that can emit light at a lower frequency following absorption of light of a higher frequency), and also have the ability to convert light to electricity (photovoltaic). Moreover, the molecules he talked about, absorb in the visible region of the solar spectrum, and this allows for their possible application in the fabrication of solar cells. They were modelled on a pair of naturally occurring fluorescent proteins found in the jellyfish Aequorea victorea, found in the west coast of North America.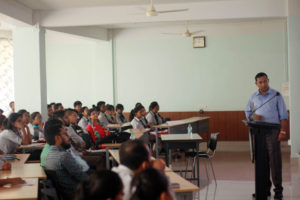 His talk touched on many aspects including the molecular of the fluorophores, the photochemical processes that take place on irradiating them with light, their crystal structures and finally on their applications as organic photovoltaics with particular emphasis on their usefulness in solar cells.
The talk was attended by all students and faculty members of the Department of Chemistry and also by faculty members from the school of Life Sciences.