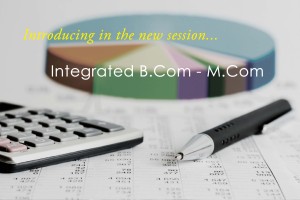 The University will be introducing new programmes in commerce – Bachelor of Commerce (Hons) and Integrated M.Com under the School of Commerce and Management in the new academic year 2016-17.
These degree programmes are being introduced in response to a felt need for in-depth study and analysis in the areas of commerce, management and business strategies among the youth. They are designed for learners who are enthusiastic to learn innovative ideas in commerce and business, and to provide them a platform where they can explore their latent talents in order to meet global needs.
Apart from gaining in-depth academic and practical knowledge and hands-on experience needed to pursue a successful career in ones chosen profession, students will be equipped to make a smooth transition from the classroom to the boardroom by acquiring skills that are valued by employers and hence will be industry-ready. They will develop strong teamwork, critical thinking and creative problem solving skills.
Some of the added advantages of studying these programmes at Assam Don Bosco University are:
Training in industry-standard accounting packages

Opportunities for Certifications from ACCA (Association of Chartered Certified Accountants), CFA (Chartered Financial Analyst Certification), CIPM (Certificate in Investment of Performance Measurement)

Online Certificate Programme in Actuarial Science.

Soft Skills and Life Skills Training

Applications of Spreadsheet packages
For further details, please contact:
+91 81348 04732, +91 96780 03942, 0361-2139291/92