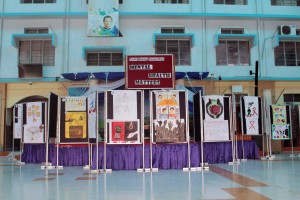 The Red Ribbon Club, Social Work Department, ADBU in Association with Assam State AIDS Control Society had organized "Poster-making Competition" under the theme of International Youth Day 2014 "Youth and Mental Health." The event was entirely managed by the students volunteers of Social Work Department under the guidance of Mr. Victor Narzary, Asst. Professor and Mr. Phungreiso Varu, Asst. Professor, ADBU.
The key objectives of the initiative was to enable the students community of the university and the youths to realize their full potential, and also to create awareness that mental health matters to us all.
Thrity three (33) students participated in the poster making competition-showcasing their talents and creativity mostly highlighting the experiences of brave, young individuals speaking out about these themes/issues with the objective of overcoming stress, addiction, stigma and discrimination to ensure that young people can lead full and healthy lives free from isolation and unnecessary shame, and openly seek the services and support they need for a change.
Finally, the jurists choosed 3 best posters based on the overall impact, clarity, appropriateness and creativity of the posters while appreciating all other participants of the competition event. The judegs were Dr. Sunandan Baruah (DBCET), Ms. Usha Mary Sharma (DBCET), Dr. Riju Sharma (Social Work), Mr. Jacob Islary (Social Work) and Mr. Apurba Bezbaruah from Assam State AIDS Control Society, Guwahati.
The spirit, ideas and the enthusiasm of the students community to mark International Youth Day 2014 was highly appreciated by the Vice Chancellor of the Assam Don Bosco University, Fr. (Dr.) Stephen Mavely as he gave away the cash prizes and certificates of excellence to the winners.