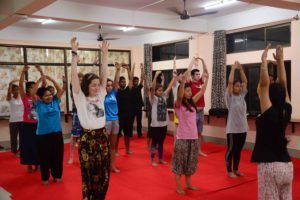 Assam Don Bosco University celebrated the International Yoga day at two of its campuses in a truly
international manner.
Tapesia Campus
Even though the university was on semester vacation during this period, an international student volunteer programme was in progress at the Tapesia Campus of the University. The student volunteer programme is a collaborative effort between University College of Dublin, Ireland and the Department of Social Work, Assam Don Bosco University to bring participatory development to the villages surrounding the campus. The university used the opportunity of the student volunteer programme to conduct a brief workshop on Yoga as well as have a session of yoga with the students from Ireland and our own students.
Kharguli Campus
The international Yoga Day was celebrated at the Kharguli Campus of the University with youth taking part in various short-term summer programmes being organised by the University during vacation, in two sessions – one on the 20 June, and another on 21 June 2017 itself. The sessions included an orientation on Yoga, its mental and physical benefits and actual performance of some yoga asanas. All those who participated in the events appreciated the sessions and expressed their desire to have such events organised in the future.