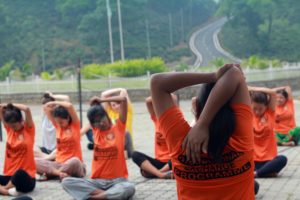 International Yoga Day 2019 was observed at the University by performing various Yoga postures at the University's Tapesia Campus at 7:00 am in the morning.
As the University is on a summer break, there were only students of Master of Social Work who remain in the campus for International Student Volunteer Exchange Programme 2019 who are working with volunteers from University College Dublin, Ireland in the surrounding villages, re-innovating Anganwadis, giving English tuition classes, and a variety of social development works.
Some of the student volunteers from University College Dublin also joined in the observance of this day in the morning hours in front of Women's Hostel I.
The instructors were Carrie Grace Tron and Leah Meiling Shangpliang from the Department of Social Work, who are pursuing their Master Degree Studies at the University.