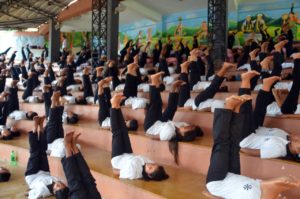 The University observed the International Yoga Day by organizing various Programmes at its campuses on 21 June 2018.
As the International Yoga Day falls during Summer Vacation, there were only administrative staffs, some research scholars and faculty members who stay at the University's main campus at Tapesia. However, given the importance of this day, all those who were in the campus got together for a session of yoga at the University's Atrium and performed various Yoga postures under the guidance of Ms Shanthalembi Lisham, an Asst. Professor in the Department of Social Work, who is a regular yoga practitioner.
At Kharguli Campus of the University, the Director of the School of Management, Fr. P.D. John spoke on the importance and health benefits of Yoga and the rising popularity of the same throughout the world to the students of vocational training programmes. Ms. Pinky Sarkar then animated the programme and students performed yoga with a lot of enthusiasm and zeal.