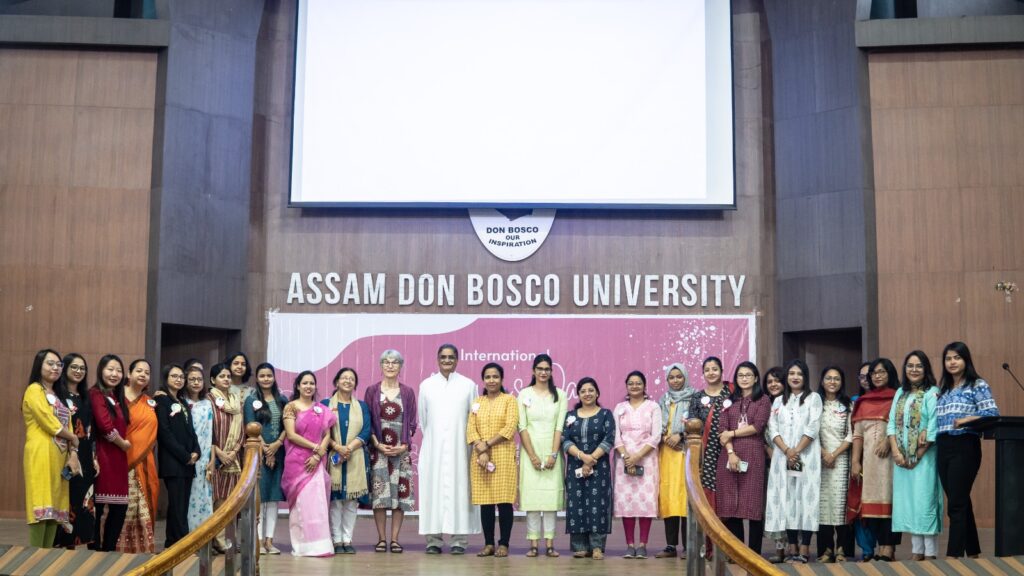 With International Women's Day (8th March 2023) this year coinciding with Holi (a National Holiday in India), the Department of Education organized a celebration of the same on 10th March 2023 with a theme 'DigitAll: Innovation and Technology for Gender Equality'. The programme was graced by the Honorable Vice Chancellor, Fr. Stephen Mavely; Prof. Ursula Fasselt, a delegate from Frankfurt University, Germany; Prof. Riju Sharma, Director of SHSS, faculty members and all the students of the School of Social Sciences and Humanities.
The programme started with Bible reading by the anchors Eufinia Paslein and Thejazo Gary Rutsa (B.A 2nd and 4th semester). The department students' presented a group song. Then a speech on International Women's Day was delivered by L. Bobita Singha and Prometheus Marak (M.A 2nd Semester) both in English and Hindi.
The Vice Chancellor, Fr. Stephen Mavely shared his outlook on celebrating International Women's Day, the contributions of women in the society and gender equality and ended the speech stating the importance of digital media and the changes it brings to make our lives much easier. Prof. Ursula Fasselt spoke on how digital technology helps women to express their feelings and their opinions.
The programme continued with a skit by the students of B A. 2nd and 4th semester which displayed some of the eminent women who inspired and shaped our society for the better. This was followed by a 'Thank you note' to all the women by Andrew Changsan (M.A 2nd semester). The programme ended by reciting the Lord's prayer by Dibya Lakra (B.A 4th semester).
The programme was co-ordinated by Dr. Bonnie Amonge Crerar and Miss Ritu Sarkar (Assistant Professors, Department of Education).