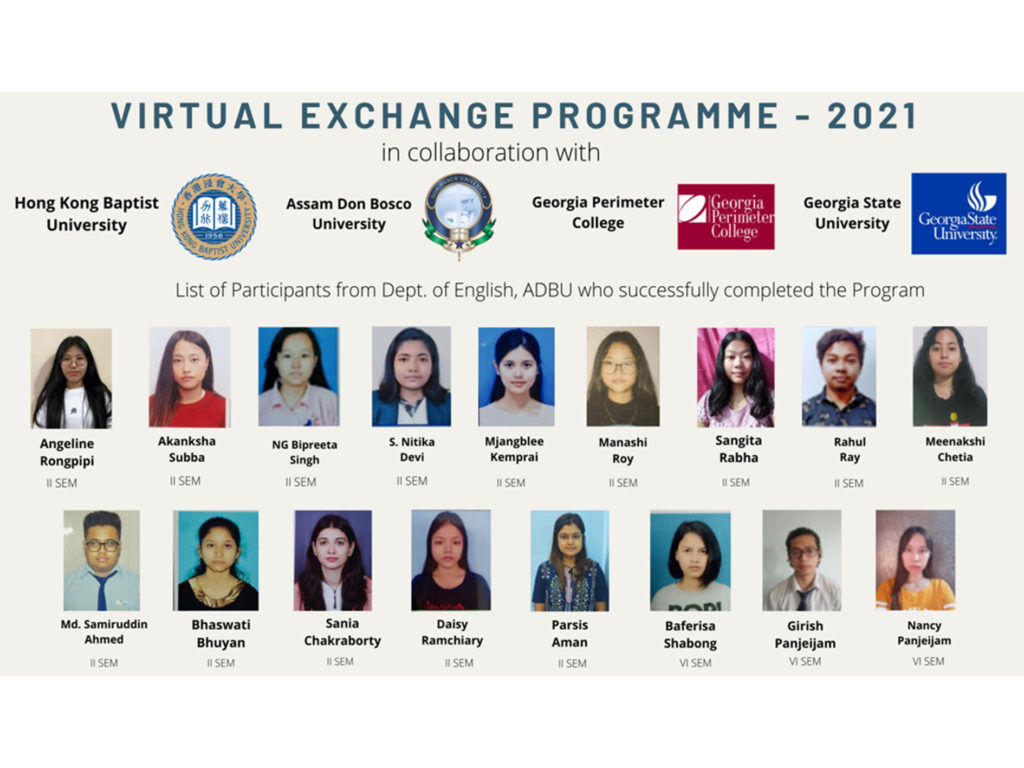 The students of Department of English participated in a Virtual Exchange Programme in collaboration with Hong Kong Baptist University and Georgia State University where participants discussed about various issues including Black Lives Matter movement, LGBTQ+ rights, Effects of Covid19 Pandemic etc.
Before the beginning of the Conference on 30th January, students who were interested in participating in the programme uploaded a short self-introduction video to Flipgrid and uploaded the second round of pre-recorded videos in response to queries about their first videos.
The participants had their first live interaction on a Zoom conference platform on 30th January mainly for dissemination of information regarding the programme and this was coordinated by Dr. Emma H Zhang, Lecturer, Hong Kong Baptist University, and included all the participants from each participating university.
Live interactions between participants took place on 19th of February 2021, in the form of another Zoom conference, in which students were put into different breakout rooms of 7-8 members each, and were encouraged to interact and discuss certain topics that were allotted to each room. Some of these breakout rooms also had teachers from participating universities, who were there to guide the students. Additionally, the interaction in the larger Zoom conference was aided by the use of Pear Deck, which is a web-based application that allowed the participants to give feedback by answering typing out comments, drawing on a virtual board and filling out questionnaires.
By the 22nd of March 2021, participants from all the universities were asked to enrol themselves in one of twelve different discussion groups on Flipgrid and were required to post once a week for four weeks in their respective groups to be eligible for the certificate of completion of the Virtual Exchange Programme. The topics of each discussion group ranged from discussing the current Covid-19 pandemic and its effect on the world to the issues of racial inequality and LGBTQ+ issues and the problems of censorship in Arts and Literature. Such a varied range of topics and discussions allowed the students to not only widen their worldview but also acquaint themselves with the raging issues pertinent to other parts of the world.
Each participant therefore posted a minimum of two videos of 3-5 minutes talking about their chosen topics, and two videos or text-based comments in reply to the posts of other participants. They were encouraged via mail to try and relate their own experience with that of other participants and to ask questions. By the 27th of March 2021, the last round of comments was posted.
On 26th of March 2021, another Zoom conference took place, following the format of the previous one, utilizing breakout rooms and Pear Deck to encourage interaction; during which the respective teachers associated with the programme from all the participant universities also had an interactive session.
After the completion of all the criteria set for the students, they were encouraged to keep posting on the Flipgrid platform if they wished to do so since it was still open. A total of 18 students from the Department of English, Assam Don Bosco University, participated and completed the required tasks that were set for them, and received a Certificate of Participation.