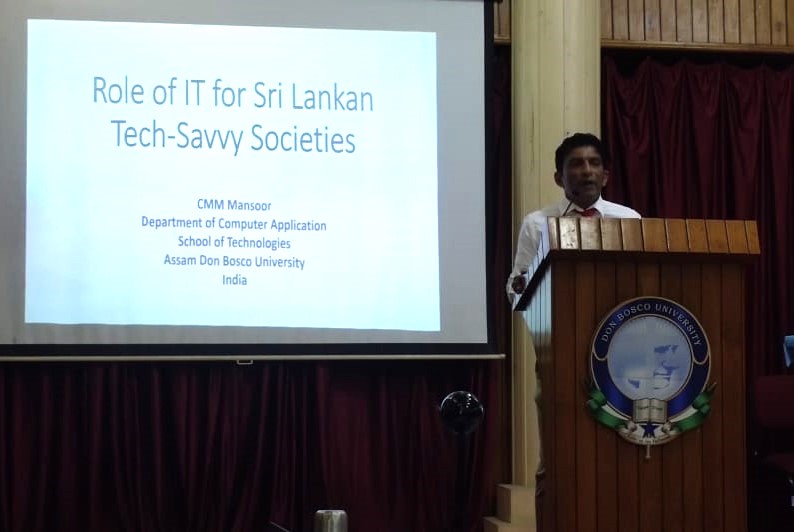 The Department of Computer Applications, conducted an International Symposium on Meet & Greet SRI LANKA: An open discussion on Role of IT for SriLankan Tech-savvy Societies on 14th March
2023.
The objective of the seminar was to highlight the key role of Information Technology
(IT) for holistic development of a society. The symposium highlighted specially the techsavvy
societies of Sri Lanka, where the youngsters and the upcoming generations of Sri
Lanka is using Information Technology for their career development as well as solving their
day to day issues. Jobs in IT industries, identifying job market trends, evaluating one's
skills and competencies, gaining knowledge about various IT industries and exploring
different career paths in IT were also discussed. The symposium helped the participants get
an idea in making a roadmap for getting a job in IT industries of national and international
sectors.
The session started with a welcome address by Dr. Uzzal Sharma, Head,
Department of Computer Applications who emphasized the importance of the symposium as well as spoke on how IT solutions can help develop a society.
Mr. CMM Mansoor, Senior Lecturer in Computer Science, Department of Information Technology, South Eastern University of Sri Lanka delivered a talk on importance of IT skilling for countries worldwide. He also highlighted a roadmap for working abroad and an action plan that can be made by an individual.The open discussion from different chairs was coordinated by Dr. Gypsi Nandi, Dr. Abhijit Bora and Dr. Jonti Deuri. The seminar was attended by the faculty members and students of the School of Technology on campus and some attended through online from Thailand, Bangladesh and USA over Google meet.