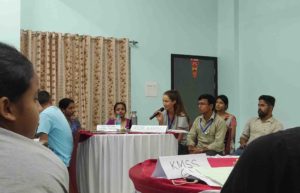 A ten-day International Summer School on Human Rights for Social Development: Frames and Agents was held at the Assam Don Bosco University today. Addressing the participants and invited guests, Dr. Ursula Fasselt, Professor of Social Work and Health and also the Convener of the Summer School, Frankfurt University of Applied Sciences, said, "It was a very inspiring week – we all experienced a journey which brought us from a theoretical concept – every person being endorsed with inalienable, indivisible, universal Human Rights – to a deep feeling about the necessity of social change in order to fully implement those rights."
The International Summer School was attended by thirty-five students from different parts of India and Germany. During the ten-day period, they attended lectures on human rights for social development, sessions on Yoga, games and sports, did field visits to Human Rights agencies, interacted with development practitioners, and completed Art Projects on Communication for Human Rights. The Valedictory Programme comprised Exhibition of the Art Projects: Collage-making, Street-theater and Film-making. The Exhibition was the outcome of the weeklong intensive workshops facilitated by Ms. Meike Porz and Prof. Bernard Kayser from Frankfurt University of Applied Sciences, and Jai Kishan S. Gunasekaran and Kaushik Bhuyan of Mass Communication Department (ADBU). The Report of the National Conference on Social and Behaviour Change Communication for North Eastern Region which was jointly organized by ADBU, UNICEF Assam, and Tezpur University, earlier in the year, was also released during the event.
Inaugurating the Exhibition of Art Projects, Fr. (Dr.) Stephen Mavely, Vice-Chancellor, Assam Don Bosco University thanked Prof. Ursula Fasselt, the German Academic Exchange Service (DAAD), and faculty and students from Frankfurt University of Applied Sciences and several other Universities of India who attended the programme. He said, "Human Rights for Social Development is about reaching out to the peripheries. It is about ensuring that all human beings are able to live with dignity and respect." He called upon everyone to participate in their respective institutions, communities and countries to make it possible for all to enjoy their rights. Attending the programme as the Guest of Honour, Ms. Ananya Goswami, Social Policy Specialist, UNICEF Assam, appreciated the hard work carried out by the students and the faculty. She said, "It is evident from the presentations of the collages, street theatre and the short-films that the students have worked really very hard. I am glad to see that your work is grounded on the succinct realities of society." She urged the students to continue working hard.
As part of the International Summer School, a World Blind Walk was organized on the 17th of October in collaboration with NAVJAN. A group of fifteen visually impaired children from Jyoti Niketan (Guwahati) led the walk which saw large-scale participation from among the ADBU faculty and students. Speaking on the occasion, Fr. Jose Mappilaparambil, Director, NAVJAN said, "Donating one's eyes for those who cannot see is a blessing for the self and for those that one leaves behind after death."
In order to bring in grass root experiences into the class room, Mr. Samudra Gupta Kashyap, Ms. Ketaki Bardalai, Executive Director, Shishu Sarothi, Ms. Sheetal Sharma, ARIAS Assam, Mr. Laxminarayn Nanda, UNICEF Assam came in at different points of the summer school as guest faculty. It may be mentioned here that four faculty from Germany, Prof. Ursula Fasselt, Prof. Carola Berneiser, Ms. Meike Porz and Prof. Bernard Kayser spent a fortnight at Assam Don Bosco Univerity and taught in the Summer School. On the other hand, faculty from ADBU, Dr. Riju Sharma, Director, SHSS & Convener of the International Summer School, Victor Narzary, Programme Coordinator, Jai Kishan S Gunasekaran, Kaushik Bhuyan, Shanthalembi Lisham, Bibharani Swargiary, Ainamlin Dkhar, Hazel Wahlang and Dipyasuruj Konwar delivered lectures and facilitated sessions during the Summer School.