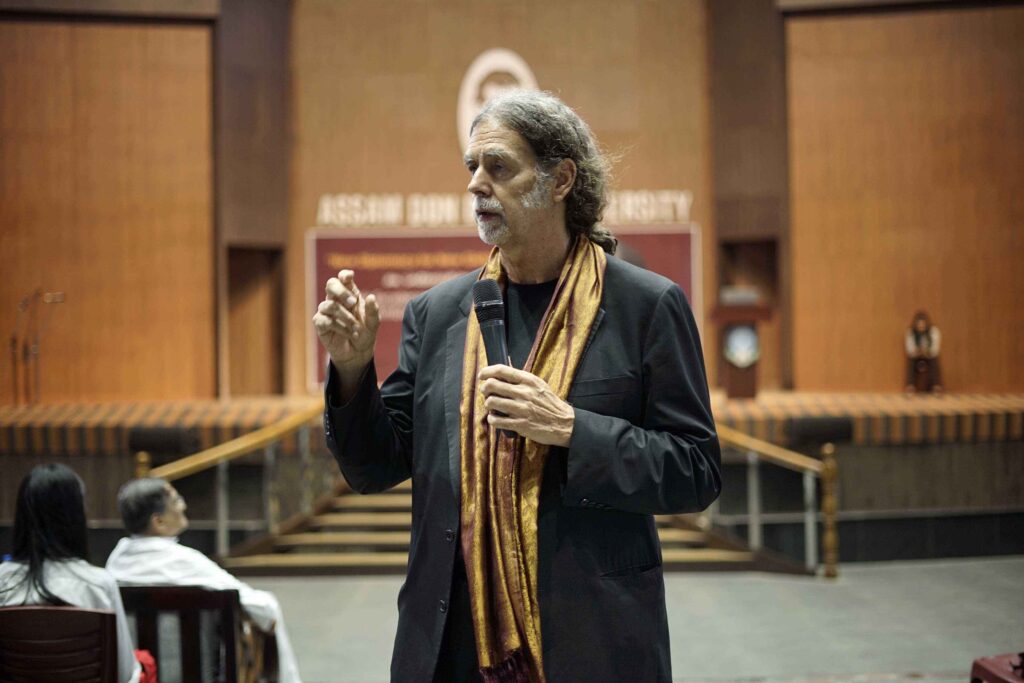 The German Ambassador to India, His Excellency Walter J Lindner delivered a speech on 'New Diplomacy for New Global Challenges' at Assam Don Bosco University today and interacted with the students of the University in a very lively and informative session.
In his welcome speech, Fr (Dr) Stephen Mavely said, "We are delighted to have you here to share with us your thoughts on the diplomatic challenges that face the world today. None of us present here have been through the agonies of a world war. On the contrary, we have been in a way privileged to enjoy the benefits of liberal democracies that blossomed after the war. But, now, war clouds threaten our lives in spite of being so far away from the actual theatre of war."
The Ambassador started his speech by appreciating the rendition of a song 'Imagine' presented by the University Choir in different languages saying that the song set the right tone for the programme and that the students are fortunate for being exposed to a diverse culture on campus which builds tolerance towards others and to care what is happening in other parts of the world.
Calling for the need to have a new diplomacy in the world, Ambassador Lindner said, "I am not your typical, normal diplomat, I have a ponytail, I am a musician, I played in a rock band, so, bring it on! I am different I guessed. But, we need different kind of not only diplomats, but parliamentarians, politicians and leaders who are transparent and accountable to their actions. They have to be one of you! They have to be one of us!"
Speaking about how busy his schedules are these days due to the war in Ukraine, he said, "I don't want to bring 'Ukraine' to you because it is far away but only one aspect – for Germany it is much closer. Kiev is only 10 hours' drive from Berlin. So, the bombs are ten hours car drive's away. As we speak, people are looking for shelters in subways because of the continuous bombardments. But, the point I want to make here is more philosophical. Our future. Many of our times, of our brain cells are invested on spending more money for tanks, bombs, confrontations, cold war. We need that money, we need that time, we need those brain cells for the real important questions in the world – poverty eradication, climate change, finding a solution for plastics, establishing smart cities etc. Now Parliaments are talking about military spending again, not education, not developments. The war in Ukraine has brought back increase in military spending internationally and this is what I think is very bad about Putin's war apart from attacking a peaceful country which is posing no threat to him.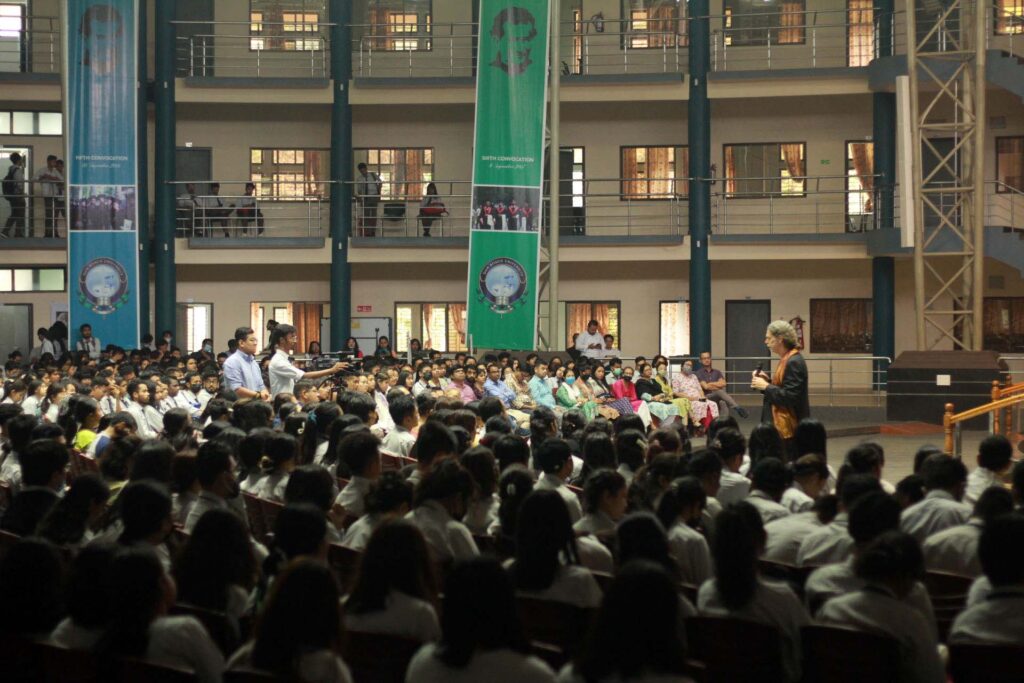 The Ambassador also spoke on what he called as 'The Perfect Storm' coming from three directions -Overpopulation, Reduced Natural Resources and Climate Change and stressed on the need for action as time is running out. "You are bright and young and my appeal to you is that you have to come out with a solution for these issues. We need a battery that can collect all solar powers, we need fertilizers which are environmental correct but are efficient or anything you can invent which will help humanity."
The talk was followed by a lively interaction which lasted much longer than the talk itself where the Ambassador answered questions on the ongoing war in Ukraine, Climate change, World Economy etc.
Soon after the programme was over, Ambassador Lindner tweeted, "..you could hear a pin drop… brilliantly attentive students, open-minded and cross-cultural…outstandingly located University".