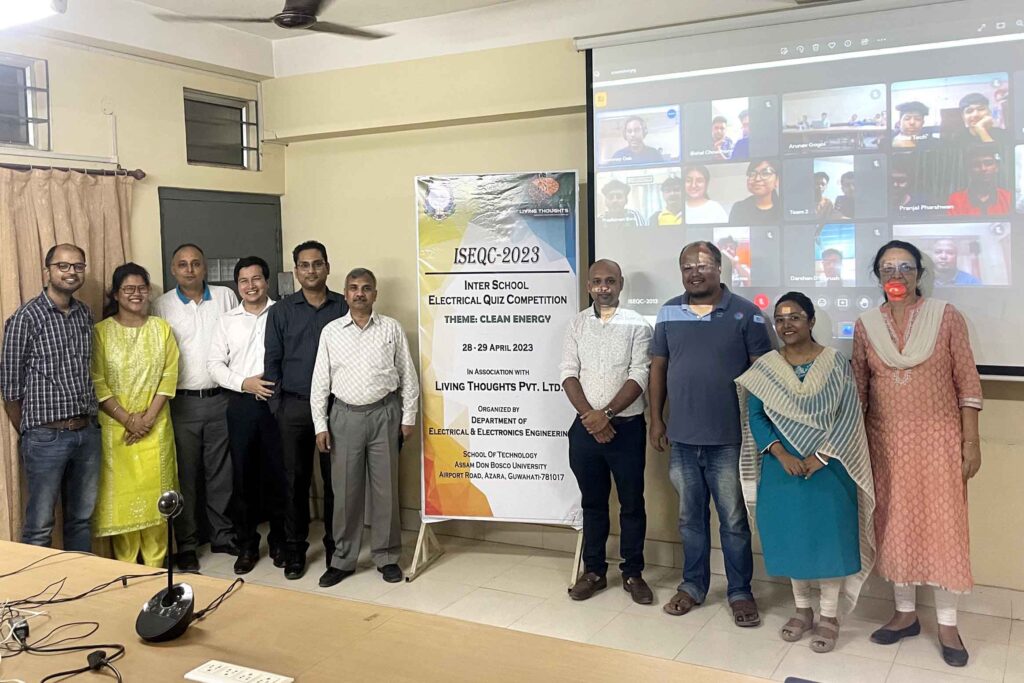 The Department of Electrical and Electronics Engineering in association with Living Thoughts Pvt. Ltd., organized an Inter School Electrical Quiz Competition (ISEQC-2023) on 28-29 April 2023. The event was conducted in an online mode with the theme "CLEAN ENERGY". This initiative aimed to raise awareness and focus on one of the most crucial Sustainable Development Goals (SDGs), namely SDG 7 – "Affordable and Clean Energy," out of the 17 SDGs adopted by the United Nations.
The 17 SDGs were adopted by all United Nation Member States in 2015, as part of the 2030 Agenda for Sustainable Development, which set out a 15-year plan to achieve the Goals. The SDGs are a universal call to action to end poverty, protect the planet, and improve the lives and prospects of everyone, everywhere.
The electrifying contest witnessed an intense competition among 18 teams, comprising the brightest minds from various states of North East India, out of which nine teams made it to the final round held on the second day of the event. The quiz competition proved to be a platform for students to showcase their knowledge and understanding of electrical and electronic engineering, as well as their awareness of sustainable development. The nine finalists showcased exceptional knowledge and expertise in the field of clean energy, impressing the judges with their razor-sharp intellect.
After a nerve-wracking finale, the champions of the competition were announced. Jyotimoy Baishya and Tanbir Talukdar from St. Claret School, Borjhar, Guwahati emerged as the worthy winners, taking home the coveted first prize of Rs. 6000. Their exceptional performance left the audience spellbound as they answered the most complex questions with ease, demonstrating their in-depth understanding of clean energy and its applications. The runners-up position was claimed by the brilliant Diptiman Bora and Pradhiman Bora from Sarala Birla Gyan Jyoti School, Guwahati. Their exceptional grasp of the subject earned them the second prize of Rs. 4000. The Kendriya Vidyalaya, Central University Tezpur duo of Darshan Dipan Baruah and Pragyan Pratim Sharma put up an impressive performance and secured the third position, winning Rs. 2000 as a prize.
All the finalists received certificates of participation, recognizing their outstanding efforts and knowledge showcased during the competition, and contributions towards creating a better, sustainable future.
Dr. Hironmay Deb, Assistant Professor at the Department of Electrical and Electronics Engineering, was the quizmaster of the competition, assisted by another faculty member of the department, Mr. Jesif Ahmed. The competition witnessed active participation from the students and faculty members, showcasing their zeal and commitment towards achieving the SDGs. Speaking on the occasion, Dr. Deb said, "We are delighted with the response that we have received for the ISEQC-2023. The competition has provided a platform for students to showcase their knowledge and understanding of electrical and electronic engineering, as well as their awareness of sustainable development with clean energy. It is heartening to see the young minds of today being so enthusiastic about contributing towards achieving the SDGs."