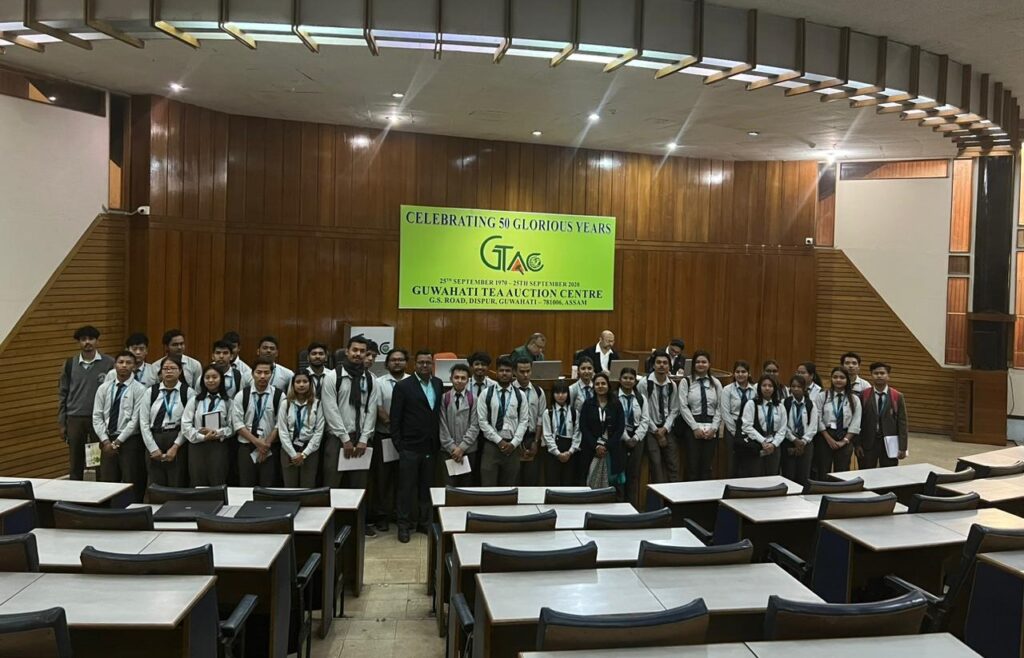 The Department of Commerce organized an Industrial Visit to Guwahati Tea Auction Center (GTAC) on 8th February 2023 for the students of B.Com (Honours) final semester students.
On arrival, students were taken to the tea auction room and the guide explained how the auction of the tea leaves takes place. The buyers bid on different tea leaves like CTC, dust and Orthodox Tea (highest graded tea in India). The auction is run by brokers who take bids from the buyers. Before everything was digitalised, the room would be full of buyers from different companies and it used to be really loud and chaotic. But nowadays bidding is done through digital platforms.
Students were then taken to the Conference Room where they were shown the technical part of how the bidding of tea leaves work through their platform. Generally, buyers and sellers have to register themselves with the Guwahati Tea Auction Centre. The auctions are usually conducted 52 times in a year. The auction is done in lots and 1 lot contains about 20-30 packets having a weight of about 30-35kg per pack. The technical part of the auction was interesting as we got to see how tea auction is actually carried out.
The Guwahati Tea Auction Centre (GTAC) is one of the busiest tea trading facilities in the world. In fact, it has seen the largest volume of CTC tea auction in the world. Established on 25th September 1970 as a result of the commitments of a few pioneers, the Guwahati Tea Auction Centre (GTAC) has been nurtured and sustained through the joint efforts of the State Government and the four segments of tea trade – sellers, brokers, buyers and warehousemen.