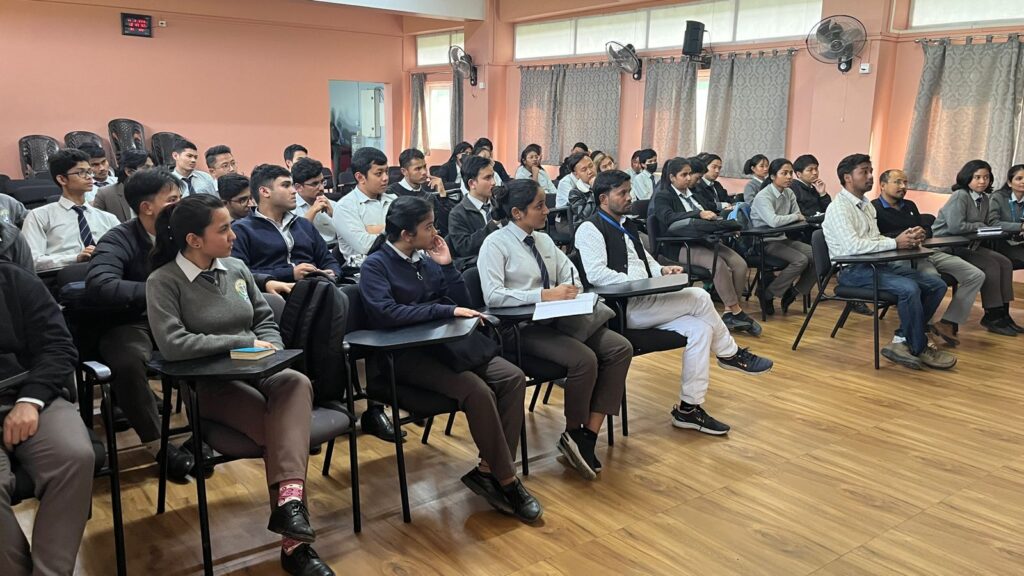 An industrial visit to Northeast Nutrients Private Limited (NENPL) was organised by the Department of Commerce on 11th February, 2023. A total of 42 students from B.Com 4th Semester were accompanied by three faculty members.
The Northeast Nutrients Private Limited is a private limited company based in Mangaldai, Assam, India and it was incorporated officially on 5th August, 2013. On arrival at the industry, all the students were taken to the training room, Dr. Biju Mani Das felicitated the host team Mr. Saurabh Saraf, Head of Operation, Mr. Suresh Kanan, Operation Manager, Mr. Mrinmoy Kaushik, HR Manager, with a scarf of the university.
An informative presentation was held by Mr. Mrinmoy, the HR manager explained that the industry was started in 2015, the ITC holds 76% of shares and SRD holds 24% shares in the company, the total manpower (including contractual) is around 750. The products they manufacture are Dark Fantasy Choco Fills, Bounce Cream and Marie Light.
This was followed by a session with Mr. Saurabh Saraf, the head of operatio. He briefed the students on what exactly happens inside the industry, how the production takes place right from the raw materials to the finished products including expenses. The working capacity is at 70% and their total production per day is 80 tonnes and in a month is around 2200 tonnes. The cream line working capacity is at 100%, the marie line is at 57% and the choco fills line is at 42%. He also mentioned about the overhead costs like IT expense, security services, pest control services, etc. For calculating labour remuneration, they follow the CTC payment method and they also provide bonus once in a year during Bihu which is a minimum wages or Rs. 7000 whichever is higher is paid.
He explained how they bake the biscuits, they use the indirect oven (it is the flame of the burner that doesn't directly heat the product) it soaks around 14% of the moisture from the product and only 2% of moisture remains. The biscuits are baked in a parabolic manner, there are 4 zones inside the oven ZONE 1- 180 degree, ZONE 2- 210 degree, ZONE 3- 270 degree, ZONE 4- 190 degree. The Marie baking oven is about 250 ft. long.
After this, students were shown around the factory and it was very informative and inspiring in some ways.