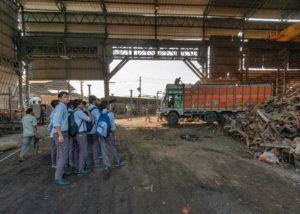 The First Semester students of Civil Engineering and Mechanical Engineering on 10th November 2018, paid a visit to M/s Assam Tube and M/s Supreme Plastic Industries.
This visit was organized to cover practical/on-shop part of topics like Moulding, Metal casting, Forming & Plastic moulding, which are newly included by AICTE under the subject "Workshop/ Manufacturing Practices".
Assam Tubes Limited is a Public Limited Company which was incorporated on 20 March 1962. It is classified as a Non- Government Company and is registered at Registrar of Companies, Shillong, Meghalaya. The company's authorized share capital is Rs. 150,000,000 and its paid-up capital is Rs. 99,950,000. It is involved in basic Iron & Steel manufacturing.
Founded in 1942, Supreme Industries limited is an acknowledged leader of India's plastics industry. It handles volumes of over 3,20,000 tons of polymers annually effectively makes the country's largest plastics processors.
The company is having 25 advanced manufacturing plants across India and another Mega Plant is under construction at Chaigaon near Guwahati. Supreme Industries Limited has forayed into different types of plastic processing in Injection Moulding, Rotational Moulding (ROTO), Extrusion, Compression Moulding, Blow Moulding etc. In the EPIP, Amingaon plant of Supreme Industries, advanced injection moulding facility is available.
Supreme Industries limited offers a wide range of plastic products with a variety of applications in Moulded Furniture, Storage & Material Handling Products, XF Films & Products, Performance Films etc. with an annual turnover of Rs.125 billion.
Students were divided into four groups, with each group guided by a technical guide from the company who explained various processes. During this visit, students witnessed how finished products like Flat Bars, TMT Bars, Angles, Channels etc. are made from metal scrap. Along with the Soaking and Heating zones of the furnaces, they were shown the processes of making billets from the molten metal, various hot rolling & cold rolling operations.
At Assam Tubes, students visited various workstations located in the plant and experienced how the plastic moulding of common items like Chairs, Tables etc. are carried out. Some of the notable processes they learned were: mixing of raw materials, tooling, injection moulding, product assembly, testing & quality control.