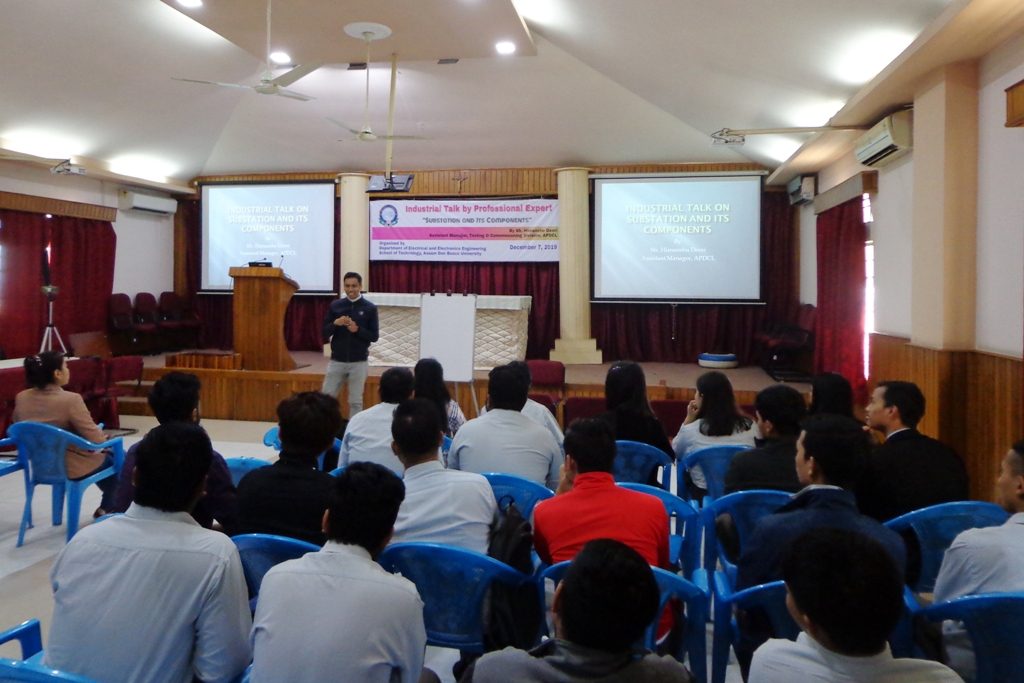 The Department of Electrical and Electronics Engineering (EEE) organized an interactive Industrial Talk on "Substation and its Components" on December 7, 2019 at Azara campus. A total of 28 students of B.Tech. along with the faculty members of the department attended the talk delivered by Mr. Himanshu Deori, Asst. Manager, Testing and Commissioning Division of Assam Power Distribution Co. Ltd (APDCL). Mr. Deori is an alumnus of the Department, who graduated in 2015.
Mr. Deori gave an overview of APDCL and its testing and commissioning division, along with its brother companies Assam Electricity Grid Corporation Ltd. (AEGCL) and Assam Power Generation Corporation Ltd. (APGCL) (GENCO), as the three were formed out of restructured Assam State Electricity Board (ASEB) in 2004. The primary purpose of the APDCL (DISCO) is to undertake distribution, trading and supply of electricity in the state of Assam or outside it in accordance with the provisions of Applicable Law and all activities ancillary or appurtenant thereto, while AEGCL is the State Transmission Utility (STU). Its core business is to efficiently transport electrical power from electrical power bulkheads to the distribution company networks in the state of Assam. On the other hand, APGCL is mainly responsible for maximum energy generation to meet up the energy demand in the state, with its main function of Operation & Maintenance of all existing Power Generation Plants & electrical system infrastructure associated with the evacuation of power within the power station.
Mr. Deori also spoke on Substation components and different associated protection systems. He elaborated briefly on the structure of APDCL and its technical functioning. Additionally, he also provided useful insights and tips for the students aspiring for competitive examinations like GATE and other PSUs, along with some important guidelines for technical interviews.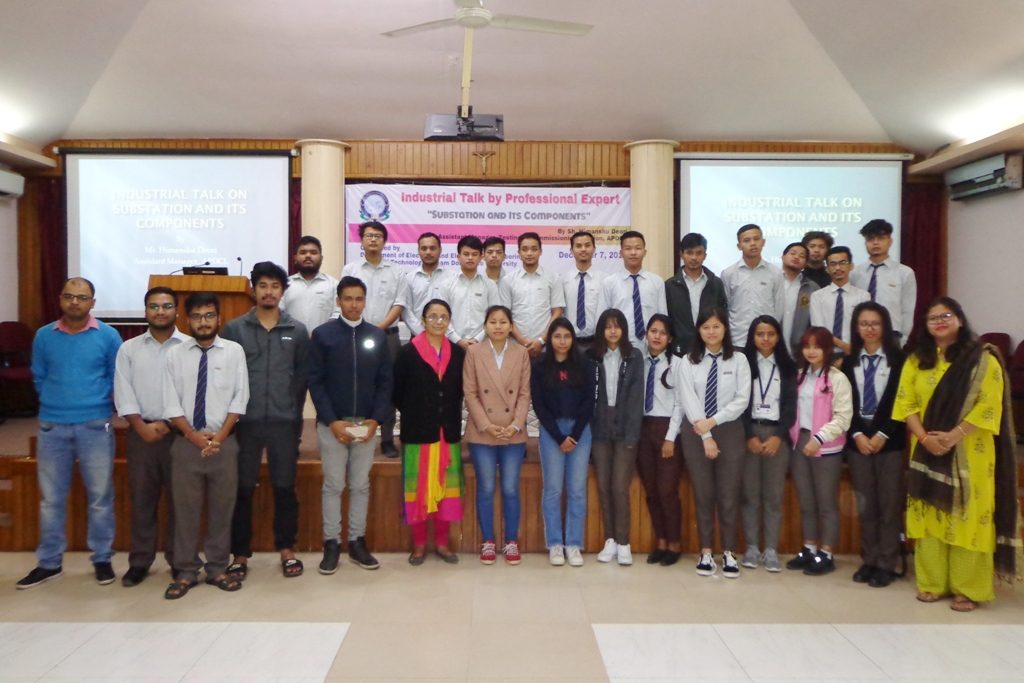 The session ended with a vote of thanks by Ms. Pushpanjalee Konwar, Assistant Professor of the Department. The Department of EEE is constantly working on bridging the industry-academia gap to make the students industry-ready when they enter professional life.