Two artistes from SPIC MACAY (Society for the Promotion of Indian Classical Music and Culture Amongst Youth) presented an evening of Indian classical music on flute and mridangam.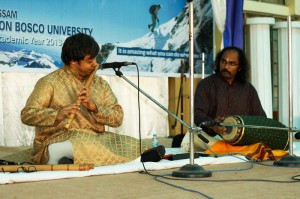 Introducing the evening, Mr Shashank Subramanyam from Chennai explained the various styles of Indian music, tal and ragas, and especially the south Indian style of temple music.
Mr Subramanyam also showed the differences of playing western music and Indian music on his flute. He further demonstrated mathematical calculations in music both in the playing of flute and playing of the typical Indian classical percussion instrument the mridangam skillfully played by Mr Sai Giridhar from Andhra Pradesh.
At the rendition of the concluding number Mr Subramanyam exhibited his playing skills using four different flutes which rendered diverse tones.
"Let me wish your mission of going around India inspiring and promoting Indian music among young people every success," said Pro-Vice Chancellor Fr. Joseph Nellanatt presenting mementoes to the artistes.
Young people applauded and screamed in ecstasy at the high points of the presentation enjoying the musical extravaganza which lasted just one hour.
The SPIC MACAY, is a voluntary youth movement which promotes Indian classical music, Indian classical dance, and other aspects of Indian culture. Established in 1977 by Dr. Kiran Seth in 1977 at IIT Delhi. It has chapters in over 200 towns and cities all over the world.
It seeks to foster the exchange of traditional Indian values and to generate awareness of the cultural traditions and heritage of India through concerts, lectures, demonstrations, informal discussions, and seminars.