On 23 February 2016, the Indian Airforce, as a part of its induction publicity programme visited the School of Technology with its Induction Publicity Exhibition Vehicle (IPEV)
The Indian Air Force is organizing these special road drives in the name of 'Guardians of the Sky' in various parts of the country since 2013. The aim is to interact with the young students for enhancement of their awareness for Indian Air Force and to provide them guidance on career opportunities.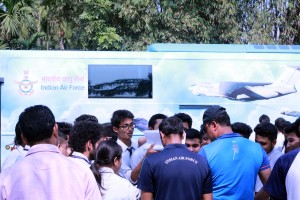 The IPEV showcased all career related aspects, life and training of IAF, its assets including flying simulation and glass tron experience of various IAF activities.
The road show at Azara Campus was conducted under the Liaison Officer and Education Instructor, Sgt. H.C Das.