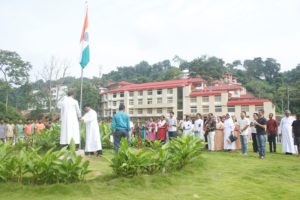 The 70th Anniversary of India's Independence Day was celebrated at the University by hoisting the National Flag in the morning at the Rotunda, in front of the residential block by the Vice Chancellor, Fr (Dr) Stephen Mavely.
Highlighting the pace of developments in India, Fr. Mavely said, "As a country we have reached the tipping point where we can either move forward or backward. We have to voice our opinions, build platform for the voiceless to be heard".
Memorial Khongkai, a student of Social Work also spoke on how the way she experience India's Independence Day celebration year after year since her childhood, and the way it changes her views and perspectives, and invited her fellow students to contribute for further developments of the country in whichever way they can.
The ceremony ended with the gathering singing 'Let My Country Awake' by Rabindranath Tagore.
Let My Country Awake
Where the mind is without fear and the head is held high;
Where knowledge is free;
Where the world has not been broken up into fragments by narrow domestic walls;
Where words come out from the depth of truth;
Where tireless striving stretches its arms towards perfection;
Where the clear stream of reason has not lost its way into the dreary desert sand of dead habit;
Where the mind is led forward by thee into ever-widening thought and action –
Into that heaven of freedom, my Father, let my country awake.