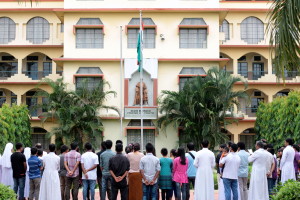 While several parts of northeast India experienced bandhs and unrest the feast of the Assumption of Our Blessed Mother and 68th Independence Day celebrations were solemnly celebrated at Assam Don Bosco University, Azara campus.
 Beginning with morning prayer and solemn Eucharistic celebration with Vice Chancellor Dr Stephen Mavely presiding along with 11 priests and some 80 students. Prayers were offered for the prosperity of the country, as well as the well being of its leaders and citizens.
 At 8.45 am both staff and students staying on campus and hostels gather in front of the college for the flag hoisting ceremony under Commander Jiss and campus minister Dr Francis Fernandez.
 The Vice Chancellor hoisted the flag.
 After singing of the national anthem, the VC administered the oath of allegiance to the nation.
 BTech student Debashish Barman gave a patriotic speech in Assamese followed by a second speech in English by Thabassum, another BTech student.
 Every one joined in the signing of Rabindranath Tagore's prayer for the country "Into that heaven of freedom my Father, let my country awake."
 After a stirring speech by the vice chancellor in which he challenged the smart and brighter students to consider taking up politics as profession, to bring ethics and governance in the country.
 The program ended with vote of thanks by warden Fr VJ Abhilash, and distribution of sweets.