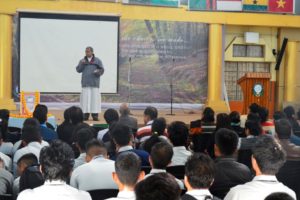 Spring Semester 2019 was inaugurated on 17th January 2019 at both Azara and Tapesia Campuses.
In a short function held at Tapesia Campus, toppers of last examinations were felicitated by the Vice Chancellor, Fr. Dr Stephen Mavely.
At Azara Campus, Prof. Manoranjan Kalita, Director of the School of Technology welcomed all the students to the new semester and urged them to begin this academic session with full energy and positivity. The SoT also observed Shilpi Diwas to commemorate the death anniversary of Rupkonwar Jyoti Prasad Agarwala as a part of the inauguration programme. Floral tributes were given to him and Mrs. Hemashree Bordoloi spoke on the life of Rupkonwar detailing his early life and how he became a legendary figure in the Assamese culture.