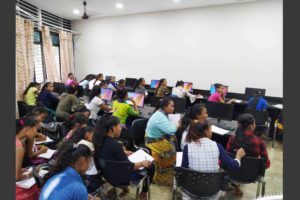 The University inaugurated its Community Computer Education Programme under Community Education Programme – Education for Sustainable Development – an initiative of the Department of Social Work on 19 September 2019 in the presence of community children and university fraternity.
The project aims at creating and providing a platform and environment where community children and members can get access to E-education. The center especially targets the students of Government Schools around ADBU Sonapur campus; and envisages bridging the gap between theory and opportunity for practice on real computers of the government school children that teach computer lessons to students without computers. The students thus while attending theory computer classes in schools will get opportunity for practice with computers in the Computer Center at ADBU. The project 'aims at contributing towards sustainable Development Goals – Quality Education (SDG-4), Gender Equality (SDG-5), and Reducing Inequality (SDG-10)' according to Dr. Jacob Islary the programme coordinator.
The Computer center is housed in the University Service Center within ADBU campus. It has fifteen state of the art desktops that are able to handle – online and offline – basic to high end modules including programming, research and development oriented workshops and training.
The first batch of 12 students have completed their course successfully; currently the second batch of 26 students and the third batch of 35 students are attending the courses.
Speaking on the occasion Fr. Stephen Mavely, Vice Chancellor, hailed the efforts of the team members for the project and recalled and expressed gratitude to University College Dublin Volunteers Overseas, Ireland for their 'collaboration with Assam Don Bosco University in actualizing the programme', and emphasised on 'the need for quality service to the community children if development is to be inclusive.'
Certificates of completion were distributed to the 12 graduating students during the programme followed by refreshment for community children.