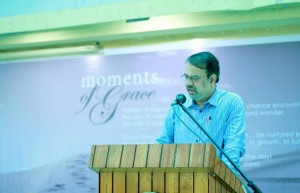 The Academic Year 2016-17 was inaugurated on 27th July 2016 in the presence of first year students of various branches of Engineering, Computer Studies, Physics, and their parents.
Introducing the theme for the year 'Moments of Grace', Vice Chancellor Fr (Dr) Stephen Mavely invited the gathering to grasp 'flashes of inspiration, nuggets of creativity, chance encounters, the joys of team work, experiences of awe and wonder, the call of opportunity, the pain of failure' and to reflect on them and be nurtured by them'. He added, 'This is the only road to happiness, to growth and to fulfilment'. Also drawing a comparison between these moments of grace and 'manna' (the substance miraculously supplied to the Israelites for food in the wilderness which can not be stored for more than a day), he said, "These moments are here only for a day, seize them now before they become the tales of yesterday".
Dr. Arup Kumar Misra, Director, Assam Energy Development Agency (AEDA), Chief Guest at the event shared his experiences with the young students who embark on a new journey. "What keeps me moving forward everyday and hope for a better future is the youth" he said amidst a welcoming applause from the gathering.
Reminiscing his college days and how technology has changed the ways of learning he said, "We had 5 computers in the laboratory and our teachers would take us there to have a look at it. We would form a line and get a chance to see it for few seconds and that was it..A lot of things have changed since, but, the core of Engineering has not changed – it remains as a study that reorganizes forces and resources of nature".
Dr. Misra also urged the students to engage in social commitment programmes, saying, " Whatever branch of study you belong to, use your knowledge of that subject for the betterment of your society. So, as you move on from this world, people will say 'Look, here lived a man/a lady who gave his/her all".
At this inaugural function, the toppers of various branches of study of last semester were felicitated, and also important guidelines were given to the students and parents by the Registrar, Dr. Basil Koikara.