The inauguration of the Academic Year 2014-2015 was held on Thursday, 31st July 2014 at DBU Azara campus in the presence of new students and parents.
The function began with the lighting of the lamp while students sang Gayatri Mantra in the background. This was followed by an invocation of Gods blessings through a prayer song by the School of Humanities and Social Sciences, readings from Bible, Bhagavad-Gita and Quran and a prayer by Fr. Tomy, a second year MSW student.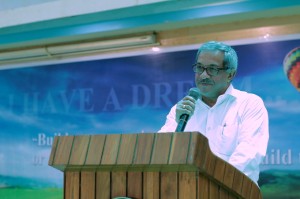 The inaugural function was graced by Mr. H. S. Das IAS, Additional Chief Secretary, Principal Secretary Finance and Tourism Departments and Principal Resident Commissioner, Government of Assam as a Chief Guest.
Addressing the gathering, Mr. Das called for seriousness in studies and also stressed on the importance of moral upliftment at the personal and society levels. Mr. Das also gave away awards to the toppers of different departments in the University.
Students from the School of Engineering and Technology performed a prayer dance which shows that humanity is the only religion in the world.
The Faculty-in-charge, Student Affairs Dr. Monmoyuri Baruah, gave the welcome address highlighting the aims and objectives of University. And Dr. Riju Sharma, Director, School of Humanities and Social Sciences also delivered a message in which she emphasized on social commitment which a student should have.
The programme went on with faculty members presenting the theme song "I have a dream" beautifully. With the song still ringing in the ears of the audience the Vice Chancellor Fr. Stephen Mavely addressed the students, their parents and the faculty. Welcoming the new students and urging everyone to have his/her own dream, he further stressed on the importance of having a dream, saying, " We all have dreams. But, having a dream alone is not enough. Dreams eventually fades out if hard work and efforts does not accompany it".
The first part of the inaugural session concluded with a vote of thanks by Mr. Biksah Agarwal Asst. Faculty in-charge, Student Affairs.
After a brief break for snacks and refreshments the programme resumed with the introduction of the Faculty Members by Ms. Juhi Baruah, Director of Human Resources which was followed by a presentation from the Registrar, Dr. Basil Koikara on Regulations and Behavioral Guidelines of the University.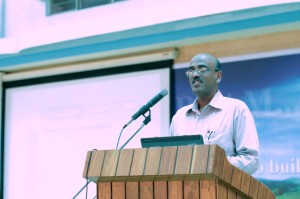 The programme concluded with two more presentations, one from the Training and Placement Officer Mr. Hussain who spoke of the Aspects of Training and Placement and the other from Creazone Committee, who presented a slideshow of the Activities of School of Engineering and Technology.
Note: Kindly visit our Facebook Page to see more pictures.