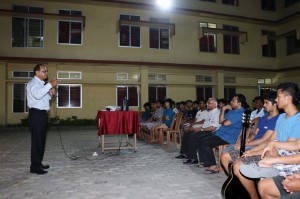 As follow up of a series of "leadership and grooming lectures" organized for hostel boys at Carrenno Hostel Azara, Dr Ranjan Bose, former Physician and currently a Wellness Medicine practitioner addressed the students who were in shock and grief at the tragic death of their classmate, (B Tech Mechanical second semester student Bhaskar Chakravorty) in a motor bike accident, Thursday, 3 April 2014.
This was the third lecture in the second semester, organized exclusively for hostel students by Warden Fr VJ Abhilash.
"Students are enthusiastic with the programme and.that keep us motivated to organize more programme. Besides technical skills, it is important that we give them [students] soft skills that will help them to be effective in their profession," says Fr Abhilash enthused by student response for programmes he started last month (March).
Besides explaining the meaning of life and death to some 150 students who participated in the programme, Dr Bose, explained in very practical terms how one should cope with the inevitable reality of death as a journey of the soul from one form of existence to another.

He also gave them a formula for healthy living. The mantra "EARN" Dr Bose says stands for: E = exercise, A= attitude, R= rest, and N=nutrition.
Dr Bose insisted with the students, that they need to "re-programme their negative thoughts and replace it with positive thoughts of "well-being, success, peace and harmony."

He also left his mobile number for the students to call on him for assistance.