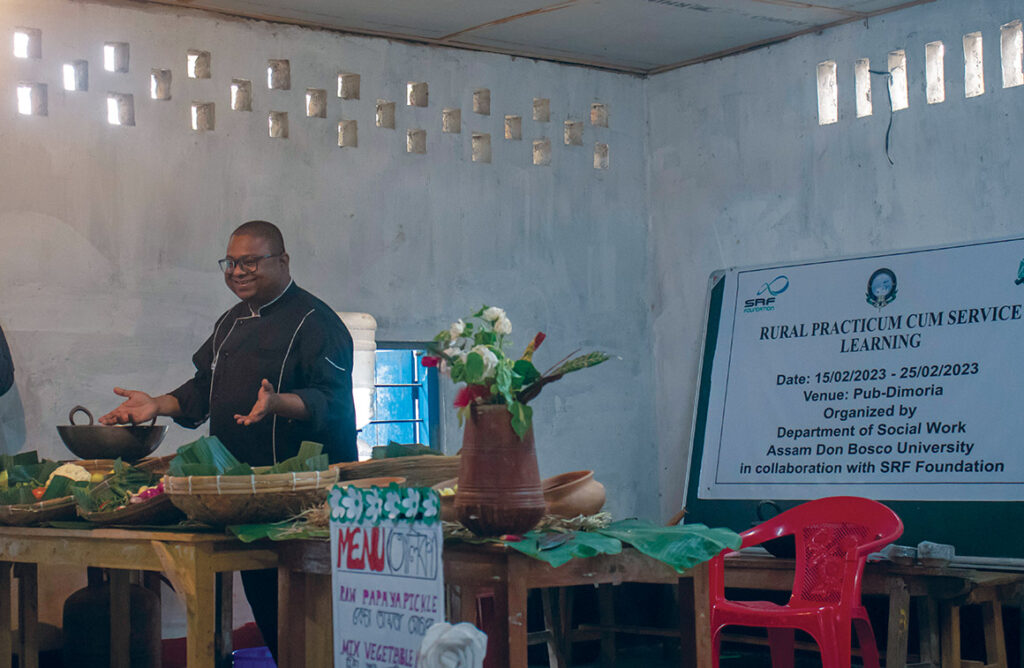 As a part of rural practicum cum service learning, a group of MSW students organized a programme on Home Remedy for Malnutrition and Fast-food with Nutrition on 21 February 2023 at Pub-Dimoria village, Topatoli- Kamrup Metro based on the findings of Participatory Rural Appraisal (PRA), conducted in the village. The major issues found in the village were malnutrition among the pregnant and lactating mothers, children and adolescent girls and the consumption of fast food by young children.
The resource persons were Mr. Akash Sharma and Mr. Phaibiang Lapasam, both Assistant Professor at the Institute of Pharmacy, and Chef Manas Sarkar, Assistant Professor, Department of Hospitality and Hotel Administration, Assam Don Bosco University. Both Mr. Sharma and Mr. Lapasam spoke on Home Remedy for Malnutrition while Chef Manas Sarkar showed the gathering how to prepare nutritional fast-food at home with locally available vegetables, fruits and items like beaten rice, peanut and so on.
The programme was attended by the mothers of school children, pregnant and lactating mothers, adolescent girls and teachers of Pub-Dimoria M E School. The head teacher of Pub-Dimoria M E School Mr. Muzamil Haque inaugurated the programme and also felicitated the resource persons.