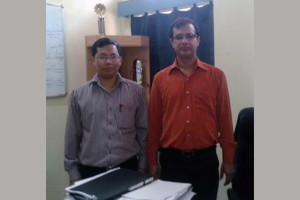 Associate Professor and Head of Deptt. of Computer Science & Engineering and Information Technology Assam Don Bosco University Dr Y. Jayanta Singh, Ph.D. visited and interacted with Dr. Sudipta Roy, Head, Department of Information Technology of Assam University, Silchar on 7 April 2014.
After a series of discussions both agreed to plan and execute possible joint research in areas of DSP and Network security, provide guidance of final year student projects (MCA, MTech etc), and deliver a series of Live talks on their expertise areas (through Skype or A-view or other medium).
"This meeting will support the students, both local and non local, from both the department to avail of guidance of their projects. Definitely, both the Departments will benefit by exchanging innovative thoughts," says Dr Singh.
Dr. Singh now plans to visit few more universities like (ISI and IIIT) New Delhi, and Dr. B. A. Marathwada University in Maharashtra to forge similar type of joint projects or guidance of final year students.