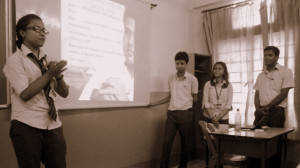 One of the best practices implemented at Assam Don Bosco University's Azara campus which hosts both Don Bosco College of Engineering & Technology, and Don Bosco Institute of Social Sciences is the day long group assignment presentations held towards the end of the first month of the new academic year.
"This is a unique opportunity for students to showcase their presentation talents and Communicative English skills," says Prof P. Joseph giving marks for teams making their presentations on "My Favourite Politician".
Photo shows a team of students making presentation on youth icon politician Sachin Pilot.
Each classroom is fitted with LCD Projectors and each team consisting of four students take the podium and make their presentations to the whole class. During the interactive session after the presentation, the class has possibility to quiz the presenters.
The presentations on Friday 23rd August continued all through the day till all 10 or 12 groups of the class completed their presentations on previously commissioned study topic.