Three teacher trainers from Dublin, Ireland (Mary, Roisin and Emma) from Global Schoolroom started a week-long training program at Assam Don Bosco University Azara campus for 27 teachers of Don Bosco School Sojong from Karbi Anglong district of Assam, 7 July 2014.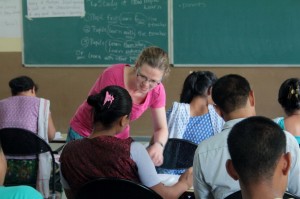 From next week, the Irish team will follow up with practical classroom training sessions for three-weeks in Sojong.
Global Schoolroom believes in sharing their Educational Experience Worldwide to help eradicate poverty, promote economic development and build sustainable communities. In furthering this goal Global Schoolroom works directly with teachers and communities to build a strong framework for high standards of teacher education. Once in place, the Global Schoolroom programme is designed to be sustained by local networks.
This is achieved through the forging of respectful links between educational partners to their mutual benefit. This sharing of good educational practices enriches the collective educational experience, widens the cultural horizons of everyone involved and expands each individual's scope for opportunity. Children in the communities involved receive a better quality education which ultimately leads to greater economic development and higher standards of living.
Experienced teachers in Ireland (both North and South) and the UK are recruited each December to travel to India in the following July to work with their colleagues as part of the four week face-to-face element of the Global Schoolroom programme.
For the volunteer teachers, this is typically a once off experience with preparatory training and preparation provided to them in Ireland over 5 to 6 weekends prior to July and an independent debriefing and evaluation session following their return.
For the volunteer teachers, University College Dublin (UCD) offers an M.A. in Education in Mentoring built around their Global Schoolroom experience.
The volunteer teachers are accompanied by a number of non teacher volunteers to assist in administration and other tasks and by students from YaleUniversity under the Global Schoolroom /Yale Internship Programme.