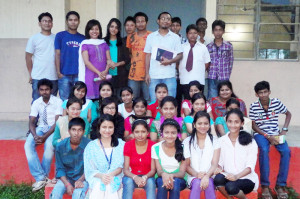 A group of university students spend time to teach younger brothers and sisters of class 9 and 10 from the neighbourhood. The one hour evening tuition class project is called Swastyayan…a commitment' (meaning a noble service preformed for fighting out evils).
While Engineering students and teachers of Don Bosco College of Engineering and Technology teach Maths and Science, both students and teachers of Master in Computer Application and Don Bosco Institute of Social Sciences take subjects like Social Studies and English as well as spoken English and personality development.
"A little help given in their studies will help them perform better in school and obtain better results and ensure a better future", said Mr. Victor Narzary Professor of Department of Social Work.
Head of the Department Dr Riju Sharma explains the concept saying, "The Assam Don Bosco University feels that it is our responsibility to reach out to those students who are less privileged and in dire need of educational assistance. With different programmes like soft skills training, coaching class and personality development it will enable the students to go out to their community and get involve more effectively with people around them."
"I like the tuition classes because it is free of cost and we are able to learn our lessons through different activities," says 14 year old class X student Sanjeev Das winner of the singing competition.
"Unlike other tuition centres, here we are able to learn and show our talent and gain confidence out of it," says class X student Mousmi Das who was the topper at dancing talent contest.
"It was a good experience, I'm very much happy that I could be a part and help someone by contributing my knowledge to the students," says B.Tech student Mr. Suraj Kumar who is an active volunteer.