Salesian General Councillor for Youth Ministry Fr (Dr) Fabio Attard on a five-day visit to Guwahati province addressed the joint meeting of the Board of Management and Governing Body of Assam Don Bosco University (ADBU), on March 7.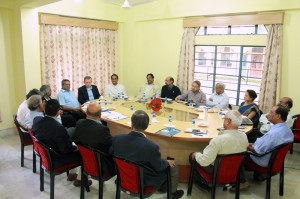 It is the first time that a General Councillor addressed an ADBU Board Meeting. Earlier on March 4, Fr Attard had addressed the students of the School of Technology and the School of Social Sciences separately.
A great patron of the University Fr Attard, addressed 16 members of the joint board meeting saying, "I am impressed by the highly qualified assembly of so many people helping in this march; this is highly encouraging."
Presenting the worldwide Salesian experience in the university sector Fr Attard reminded the members of catering "to the higher education of lower middle class, brings with it a certain type of requests and financial demands."
"Those who are working for lower income groups today are having a bumpy road," stated Fr Attard, sharing the challenges of over 10 Salesian Universities in South America. He encouraged the board members to come up with novel ways "to open up windows for the poor and low income families," with scholarships and patrons as "with a little help our students are breaking the cycle of poverty… we have success stories of many people … because we have helped." "We need to be inventive and creative, tap former students, forge partnerships with industry institutions," he asserted.