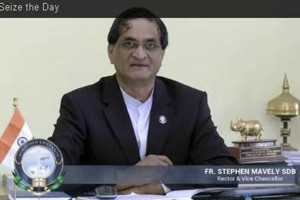 The founding Vice Chancellor of the University, Fr. (Dr.) Stephen Mavely has been nominated as  'Education Evangelist 2014' among few others.
`Education evangelists are the visionaries and change makers who have contributed and have been contributing towards the growth of Indian education system both quantitatively and qualitatively", says SkillTree Global Knowledge Consortium Representative Gurjashan Singh.
Mr Singh adds, "The Education Evangelist of India 2014 television episodes will showcase outstanding educationists, recognize them for their contribution to higher education, cover them extensively by way of pan India media coverage, and confer upon them the coveted honorary title – `Education Evangelist of the Year` at a televised feature in mid-February on Times NOW channel"
The Initiative first came up in 2013 as a television series in media association with ET Now (Economic Times) which conferred Skill tree education evangelist of India title along with Karmaveer Chakra instituted by UN.
Fr (Dr) Stephen Mavely became the first Vice Chancellor (President) of Assam Don Bosco University in 2008. While serving as the Principal of Don Bosco College, Guwahati, he was entrusted with the task of establishing the first Don Bosco University in India. He played a pivotal role in the conceptualisation and planning of the University, and continues to steer its development as it seeks to create for itself a unique niche among national and international institutions of higher education.
Prior to becoming the Founder Vice Chancellor and Rector of Assam Don Bosco University, Fr. Mavely spent over 40 years devoted to the education of young men and women in North-East India – a mission to which he has dedicated his outstanding talents in a variety of fields: literature, media, psychology, communication, theology, management, pastoral work…
When the concept of accreditation was still in its infancy in much of India, during his tenure as the Principal of St Anthony's College (Shillong) he won for the college the singular distinction of being the first to be accredited in Eastern India and the first to be awarded the highest 'Five Star' status by the National Assessment and Accreditation Council of India (NAAC).