Four research scholars presented their research proposals during a two hour session at ADBU Azara Campus, Thursday 8th August.
In his opening remarks before the presentations, ADBU Director of Research Dr. JN Vishwakarma advised the faculty "to review the presentations critically, and ask any questions to improve their synopsis."
He encouraged the examining board consisting of Vice-Chancellor, Registrar, Controller of Examinations, and Director of Research "to be merciless in asking questions, so that they (the candidates) won't have to ask for mercy."
The audience included Head of Departments, faculty and research fellows.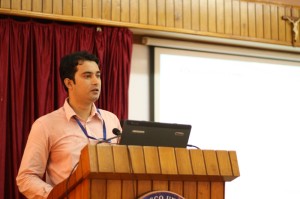 Arunav Baruah (Assam) from the Business Management School presented the topic entitled, "Corporate Governance and Corporate Social Responsibility: Moderating Effect of Ethics."
Paul Punue from Nagaland belonging to Department of Northeast India Studies had the topic: Poumai Naga Folk Tales: A Historical Cultural Study in the Light of their Heritage and Current Identity Formation."
Shalu from Assam belonging to the Department of Computer Science & IT presented "A Study of Detection Using Shape Based Approach."
Shunan Kaping from Manipur attached to the Department of Chemical Science made a presentation on "Green Approaches for the Synthesis of Biologically Active Pyrazolopyrimidines."
After about 20 minute of presentation, the board of examiners quizzed each candidate on the critical aspect of the research topic and methodology.
The presentations of PhD proposals take place as and when a couple of candidates are ready for presentation.