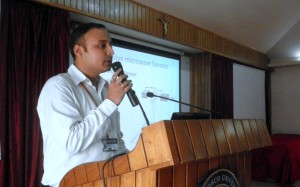 Research Scholar at Assam Don Bosco Univeristy (ADBU) Guwahati Mr. Bikramjit Goswami made a presentation on his on-going research entitled: Flood detection using Microwave Remote Sensing, as part of ADBU's now popular Friday Lecture series, 20th September.
Mr Goswami is Assistant Professor in the Department of Electrical and Electronics Engineering at Don Bosco College of Engineering and Technology at Azara, under ADBU.
Remote Sensing is the science and art of acquiring information (spectral, spatial, temporal) about material objects, area, or phenomenon, without coming into physical contact with the objects, or area, or phenomenon under investigation.
Mr Goswami presented a Case Study – Flood detection in Dhemaji District of Assam during monsoon-2013 using the recent data of the brightness temperature for all the frequencies available with a NASA satellite (USA) named SSM/I for Dhemaji district of Assam.
His hypothesis is that "Microwave Remote Sensing from Space with daily passes can be a solution to the monitoring problem of flood for the cloud covered regions.
However, he cautioned, determination of suitable frequency, polarisation and scattering angle for change detection approach for flood detection is an important problem to solve.
Mr Goswami was confident that Algorithms suitable for detecting flood in Assam are to be derived from research and analysis using MRS.
He concluded saying that the use of Indian active MRS Satellite RISAT-1 (C-band, 5.35 GHz) may be analysed for flood detection and land-use/land-cover interpretation.