Five research scholars presented their research proposals on 12th February 2015.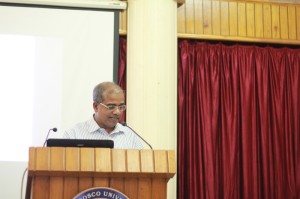 Among the presenters were Ruth I. Kharbamon from the department of Northeast India Studies with the topic: An Interface between religion & indigenous cultural practices. Bijit Debbarma from School of Management presented his topic: Marketing of handloom products produced by weavers: A case study of Tripura. Rosily T.E. from Education Department  presented her topic: A comparative Study of the strategies followed by Salesian and Model schools in Andhra Pradesh and Telengana in delivering life skills in the students.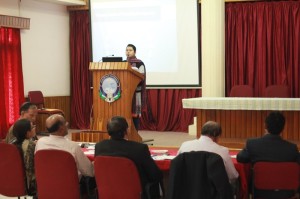 It was followed by two scholars presenting pre-submission seminar with Miss Rashmita Barua from the School of Management under guide Dr G.G. Banik presented her topic: Enhancing foreign and domestic investments in Assam through expansion of exports in merchandize and services; The way ahead.
Scholar George C.J. from the School of Social Sciences with guide Dr Riju Sharma presented his topic: Need for psychological intervention to heal and empower children in street habitat: A phenomenological and ethnographic study.
The evaluation committee members under the presidency of Vice Chancellor Dr Stephen Mavely included Registrar Dr Basil Koikara, Subject Expert Dr Riju Sharma, Controller of Examinations Dr Francis Fernandez, and Director of Research Prof. JN Vishwakarma.