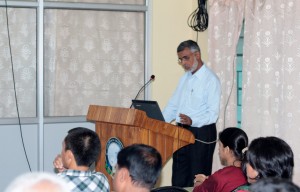 The Assam Don Bosco University (ADBU) arrived at a major landmark today (26 May 2014). In its sixth year existence two members of its first batch of 20 doctoral students registered in July 2011 presented the pre-submission seminar. They belong to the ADBU Departments of Chemical Sciences and Northeast India Studies. After a prayerful moment marking the auspicious occasion with readings from the Sacred Scriptures (Gita, Koran and Bible), recitation of psalms, and intercessory prayers, Vice-Chancellor addressed the gathering of 61 PHD scholars belonging to the 2014 batch starting their week-long course work. Miss Utpalparna Kalita became the first candidate to present pre-submission seminar in the ADBU with her presentation on "Synthesis, Structure and Anti-Inflammatory Activities of 1,2,3,4, – Tetrahydropyrimidine Adamantane Hybrids," under the guidance of ADBU Director of Research Prof. J.N. Vishwakarma. Jose K. Jacob SVD followed with his presentation entitled: "Anthropological Study of Religion Among the Rangdani Rabha of Assam," under the guidance of Prof Gautam Kumar Bera. Each candidate made half hour each presentation of their work after which they fielded questions from the panel of scholars presided over by ADBU Vice-Chancellor, as well as from the audience. In the second batch in 2012 there are 30 candidates. In 2013, PHD Scholars selected numbered 50. And this time, fourth year, out
of 192 applicants 61 were selected. In total there are 161 PHD scholars from all over India including northeast India as well as Kerala, Goa, New Delhi and other parts of India pursuing study and research in 17 streams.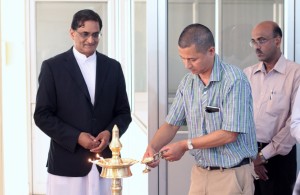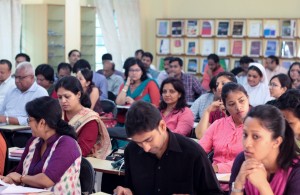 The week-long course work for the fourth batch of PHD scholars started on 26 May, with a brief inaugural session addressed by Vice Chancellor Dr Stephen Mavely and Research Director Prof. J.N. Vishwakarma who also administered the oath by the scholars who individually signed and handed over the oath sheet to Registrar of the University Dr Basil Koikara.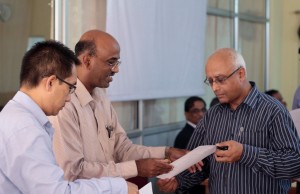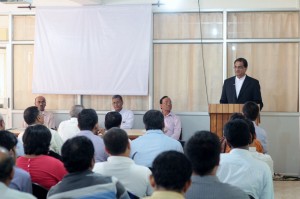 Dr Melvil Pereira from North East Social Research Centre in Guwahati took the after noon session entitled: "Envisaging Research on 21st Century."