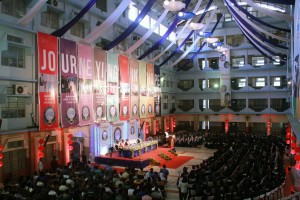 The University's Fifth Convocation was held on 10th September 2016 at the beautifully decorated atrium of the School of Technology, Azara Campus.
Shri Sarbananda Sonowal, the Honourable Chief Minister of Assam graced the occasion as the Chief Guest. Fr. VM Thomas, Chancellor of the University, Fr. (Dr) Stephen Mavely, Vice Chancellor, Fr. Joseph Nellanatt, Pro Vice Chancellor, Dr. Basil Koikara, Registrar, Fr. (Dr) Francis Fernandez, Controller of Examinations, eminent guests from other Universities, parents, faculty and graduating students attended the convocation.
After the Convocation Ceremony was formally declared open by the Chancellor, Fr.(Dr) Stephen Mavely, the Vice Chancellor delivered a welcome address and also gave a report on the University.
Congratulating both the graduates and the parents, the Vice Chancellor said, "All of us here without exception are swimmers in the sea, on our own continuous journey of learning without boundaries, whether at home or at work, whether planned or by chance, whether we are graduating today or are here to support and congratulate the graduating students… Learning continues throughout life, and a lifelong learning is not just a concept, but a reality of the modern world. All study is demanding as the graduating students already discovered. Fitting study around social obligations and activities, works and family commitments is indeed a challenge today. And meeting that challenge successfully is enormously satisfying. And so let me congratulate the graduating students and their parents whether they are here on campus or whether they are attending this in absentia or through the live streaming – Well done! Congratulations on behalf of Assam Don Bosco University!"
Addressing the gathering, the Honourable Chief Minister, Shri Sarbananda Sonowal expressed how Don Bosco University feels like home to him as he is a Bosconian who graduated from Don Bosco School, Dibrugarh. Stressing the State Government's plan to take serious steps in skill development he said, "I have been told that Don Bosco University has students from 113 countries. This means that the University is already an education hub of the world. With the University already celebrating five convocations, the University is in a firm ground to help this state in its endeavour of skill development, which is one of the biggest plans of the Government".
Winner of Chancellor's medal for outstanding contribution to campus life, Kangkana Barman in her valedictory speech mentioned how the university has motivated and encouraged her to recognize her uniqueness and allowed her to evolve and grow into a better individual over the years. She concluded saying, "Our promise to the staff and management of this University is that we will be your ambassadors of goodwill wherever we are; we will contribute wholeheartedly to all the plans envisaged for the alumni and will continue to be the flag bearers of this University."
Ankita Patowary, awarded double gold medal for securing highest CGPA in Civil Engineering and the prestigious Vice chancellor's medal expressed her gratitude towards the university for moulding her into a confident and dynamic individual and igniting the spark in her to achieve success in life. She mentioned "It fills my heart with immense pride when I remember that from this University I attended the 2015 Republic Day function in New Delhi as one of the 100 meritorious Indian students and sat alongside Prime Minister Narendra Modiji and the American President Barack Obama."
The Fifth Convocation celebrated the graduation of 648 students of which 172 students received the degree of Bachelor of Technology, 31 Master of Technology, 54 Master of Social Work, 23 Master of Computer Applications, 37 Master of Business Administration, 10 MA in Psychological Counseling, 9 MA in Human Rights, 11 MA in Mass Communication, 11 MA in Education and 16 students received M.Sc. in Physics and 7 scholars were awarded Doctoral Degrees.
The Gold Medalists in various disciplines are as follow:
Banashree Paul – B.Tech, Computer Science and Engineering & IT
Aditya Upadhaya – B.Tech, Electrical and Electronics Engineering
Mousumi Das – B.Tech, Electronics and Communications Engineering
Ankita Patowary – Civil Engineering
Shahid Zaman Barbhuiya – M.Tech, Computer Science and Engineering & IT
Sarbani Das – M.Tech, Electrical and Electronics Engineering
Rima Deka – M.Tech, Electronics and Communication Engineering
Runjun Das – MCA
Rissanalin Syiemlieh – Master of Science in Physics
Daniel Thomas – MA in Mass Communication
Nasiha Idrees – MA in Educational Leadership
Rasal Xess – Masters in Social Work
Rodney Borneo – MSc in Psychology and Counselling
Dency Varghese Mundunadackal – Master of Business Administration